The Asia-Pacific region recently has seen a rise in construction of multipurpose, aviation-capable ships by major area powers. Australia, China, South Korea, Japan and Thailand all have built ships with full-length flight decks with a variety of purposes: some as helicopter carriers, some as amphibious assault ships. Only one, China's Liaoning, was built to accommodate traditional fixed-wing aircraft carrier operations, but many others, such as Japan's Izumo-class of helicopter destroyers could conceivably carry some form of vertical or short takeoff-and-landing aircraft.
The aircraft carrier building spree has been highlighted by the recent turn in world attention to Asia. Reports characterizing the development of these ships as an "arms race" miss an important point: although there has been a considerable ramping up of tensions in Asia among its major powers, construction of all of these vessels predates such tension. The construction of carriers could be considered a logical expansion of seapower by the nations involved, especially those whose economies rely on overseas commerce.
Ship statistics from Naval Institute's Guide to Combat Fleets of the World.
Australia
Canberra-class
Completed: 0. Number planned in class: 2
Tonnage: 27,830 tons full load
Armament: 4 x 20mm; 6 x 12.7mm
Propulsion: Combined diesel and gas turbine (CODAG)
Aircraft: 18 helicopters in aviation-only role; 8 in amphibious role
Troops: 978 personnel (with 110 armored vehicles)
Landing craft: 4 LCM 1E ; 4 RHIB
The ships of the Canberra class, HMAS Canberra and HMAS Adelaide, mark the return of full-length flight deck in Australia after the retirement of the HMAS Melbourne in 1982. A joint effort between Navantia shipyards and BAE Systems Australia, at 230 meters they will be the largest ships ever operated by the Royal Australian Navy. The ships will have a range of 9,000 nautical miles at 15 fifteen knots.
Canberra class will have the ability to carry 1,100 additional passengers, up to 12 helicopters, and more than 100 armored vehicles. Interestingly the ships will have a ski jump on the bow, a legacy of their design based on Spain's Juan Carlos I-class amphibious assault ships. However, the Royal Australian Navy has said there are no plans to acquire the F-35B. Canberra will be commissioned next year, with Adelaide following in 2015.
China
Liaoning
Completed: 1. Number in class: 1
Tonnage: 59,100 tons full load
Armament: 3 x Type 1030 CIWS ; 4 FL-3000N (4 x 18 missiles) ; 2 ASW rocket launchers
Propulsion: Steam turbine
Aircraft: 40 (J-15, Z-8, Ka-31)
Liaoning is China's first aircraft carrier. Originally constructed by the Soviet Union as part of the Kuznetsov class of carriers, it was sold incomplete to private Chinese investors in 1998 with the stated intention of becoming a floating casino. The hull eventually ended up in the hands of the People's Liberation Army Navy (PLAN), which conducted extensive refitting to complete the ship as a carrier. The ship began sea trials in late 2011 and was commissioned Liaoning in September 2012.
Liaoning retained her original design configuration after refit, minus the anti-ship missiles of the Kuznetsovs. She remains a STOBAR (short take-off but arrested recovery) carrier, using a bow-mounted ski ramp to launch fixed-wing aircraft. She does have arresting gear for landings. The Kuznetsov class was designed for 30 fixed-wing aircraft, and the air wing will likely consist of a mix of J-15 fighters, Z-8 utility and Ka-31 anti-submarine helicopters.
Most experts view the Liaoning as a training carrier that poses little or no threat to nearby navies. PLAN aircraft carrier operations are still in their infancy and it will likely be many years before Chinese carriers can conduct regular, high-tempo flight operations. There are reports that China is building more carriers, with catapults, and a fleet of at least three is projected.
Korea
Dokdo-class
Completed: 1 Number in class: 4
Tonnage: 19,000 tons full load
Armament: 2 x Goalkeeper CIWS ; 1 x RIM-116 Rolling Airframe Missile
Propulsion: Four diesel engines
Aircraft: 10 helicopters
Troops: 720 personnel (with 30 vehicles and artillery)
Landing craft: 2 LCU or 2 LCAC
ROKS Dokdo, a landing helicopter dock, is the largest navy vessel ever built in South Korea. Built by Hanjin Heavy Industries she is 199 meters long, capable of speeds of up to 23 knots and has a range of 10,000 nautical miles at 18 knots.
Dokdo is primarily an amphibious ship, capable of carrying 720 troops and up to 30 vehicles and artillery pieces. The ship has two elevators from the flight deck to the hangar below, which can accommodate up to 15 helicopters. Although classified by most sources as a landing platform helicopter, the Dokdo also has a well deck capable of holding two landing craft utility or landing craft air cushion hovercraft. She also functions as a command and control flagship for the ROK Navy, and served in that capacity during recovery operations after the Cheonan sinking.
Four ships of the Dokdo class are planned, but the program has been delayed and is behind schedule, with the second ship funded only in 2012.
Japan
Osumi class LST
Completed: 3. Number in class: 3
Tonnage: 14,700 full load
Armament: 2 x Mk. 15 Phalanx CIWS; 2 x 12.7mm
Propulsion: Diesel
Aircraft: 4 (deck only)
Troops: 330 personnel (with 10 main battle tanks)
Landing Craft: 2 LCAC
Hyuga Class DDH
Completed: 2. Number in class: 2
Tonnage: 19,000 full load
Armament: 16 x Mk. 41 VLS (4 ESSM; 12 ASROC); 2 x Mk.15 Phalanx CIWS; 2 x 3 324mm torpedo tubes; 4 x 12.7mm
Propulsion: Four LM 2500 Gas Turbines.
Aircraft: 11
Izumo Class DDH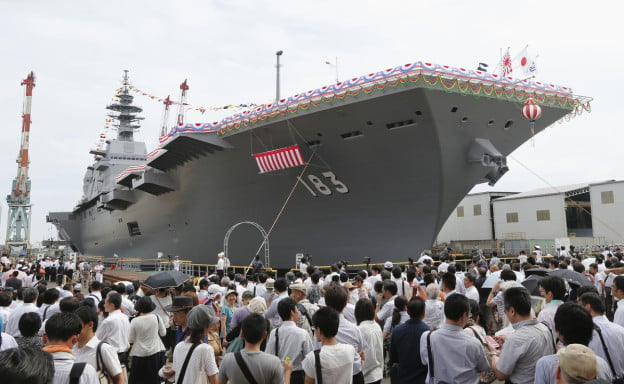 Completed: 1. Number in class: 2
Tonnage: 27,000 full load
Armament: 2 x Sea RAM; 2 x Mk.15 Phalanx CIWS
Propulsion: Four LM 2500 Gas Turbines
Aircraft: 14
Japan's Maritime Self Defense Force currently has three vessels with full-length flight decks. The oldest, launched in the late 1990s are the three LSTs of the Osumi class. The ships are 178 meters long and have an island and full-length flight decks for helicopter operations; importantly, they lack an aircraft hangar. Featuring a well deck and accommodations for more than 300 personnel, the ships are optimized for amphibious warfare. A V-22 Osprey demonstrated landing on a ship of the class, Kunisaki, during the 2013 Dawn Blitz amphibious exercises, and Japan just last week announced it is considering procuring Ospreys starting in 2015.
The two ships of the Hyuga class, as well as the new Izumo, bear a strong resemblance to traditional aircraft carriers. All three ships are generally laid out the same, with a full-length flight deck, aircraft elevators, and a hangar. The Hyuga class measures 197 meters long, while Izumo measures 248 meters. All three are officially described as "helicopter destroyers," acting as flagships for Japan's escort flotilla, with a backup role of humanitarian relief/disaster assistance response.
Both the Hyugas and Izumo are also capable of acting as landing platform helicopter ships, as Hyuga demonstrated during Dawn Blitz. Whether or not they can support fixed-wing aviation is currently a matter of conjecture, but that does appear to be technically possible. Japan has publicly stated that the ships will not embark F-35B STOVL aircraft and there are no plans at this time to purchase any. A second ship of the Izumo class is due to be launched within three years.
Thailand
Chakri Naruebet CVL
Completed: 1.
Tonnage: 11,486 full load
Armament: 3 x 6 Sadral (Mistral) ; 2 x 12.7mm
Propulsion: Combined Diesel or Gas Turbine (CODOG)
Aircraft: 12 (6 helicopter, 6 AV-8S Matador)
Troops: 675
Chakri Naruebet was commissioned into service in 1997, built by the Spanish shipmaker Bazan as a derivative of the Spanish Principe de Asturias carrier design. At 182 meters long and having a beam of 30 meters, Chakri Naruebet is 11,400 tons fully loaded. A combined diesel or gas propulsion system gives her a top speed of 25 knots, and at 16 knots she has a range of nearly 10,000, giving her the ability to project power far into the Indian Ocean and Southwest Pacific.
Chakri Naruebet  has several features to support aviation, including two side-mounted elevators, a bow-mounted ski jump ramp , and a 174-meter flight deck. The ship was designed to carry a light, mixed air wing consisting of six AV-8S Matador fighters and up to 20 helicopters. The AV-8S Matador aircraft have all been withdrawn from service because of maintenance issues, leaving the ship a de facto helicopter carrier. The ability to embark up to 675 personnel, as well as helicopters, means the ship is still viable as a landing platform helicopter, or a humanitarian assistance/disaster relief response ship. In the latter role Chakri Naruebet has deployed several times, most recently during the 2011 floods in Southern Thailand.