The Navy will issue a report to the Pentagon by July on the service's plan to allow women to serve in Costal Riverine Units — one of the few remaining Navy specialties closed to women, according to a report a May 2 implementation report released Tuesday. If approved, female officers and enlisted could serve be assigned to the units as early as October.
The riverine unit integration is the first of five so-called "decision points" in response to the January removal of the ground combat exclusion rule that prevents women from serving in frontline combat units.
"Eighty-eight percent [of Navy jobs] are open to women and we are committed to doing more," said Rear Adm. Tony Kurta, director of the Navy's office of military personnel plans and policy in a Tuesday Pentagon briefing with reporters.
The second point is integrating Navy jobs that work directly with the ground combat element (GCE) of the U.S. Marine Corps. Navy Corpsmen, Chaplains and Naval Gunfire Liaison Officers — positions working closely with Marines on the ground — still remain closed to women.
The Navy will follow the Marines' lead in integration into the GCE based on plans the U.S.M.C. are currently developing — starting with a recalibration of the Marine physical fitness standards planned to begin this year, said Col. Jon Aytes in the same Tuesday briefing.
Current plans call for Marines to decide on full integration of women into infantry and reconnaissance battalions by March 2015, according to a copy of the Navy's plan.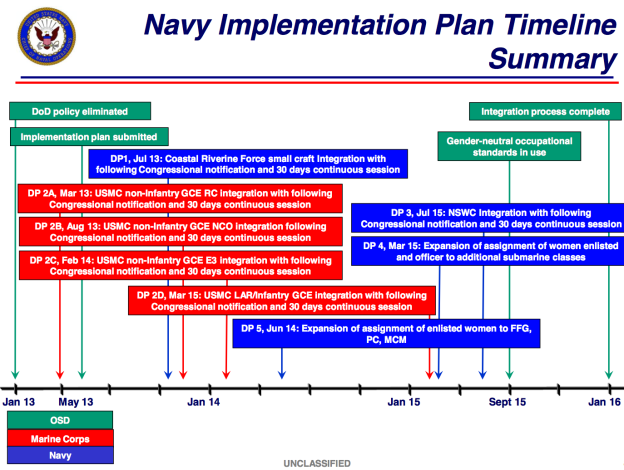 By far the trickiest integration will be in the Navy's Special Warfare and U.S. Special Operations Command communities. SOCOM is currently studying mixed gender units and plan to complete their studies by 2014. The Navy will follow SOCOMs lead in integrating the SEALs and the supporting Special Warfare Combatant-craft Crewmen rate. According to the Navy's plan, SWCC and SEAL sailors could enter the training pipeline as early as 2016.
The remaining positions closed to women in the Navy are limited by accommodations aboard ships, Kurta said.
The Navy has a plan to include female officers on its fleet of Virginia-class (SSN-774) attack submarines by early 2015 and will decide by March 2015 if the service can integrate the Los Angeles-class (SSN-688) and Sea Wolf-class (SSN-21) attack boats.
The Navy stated in its plan that the Block V Virginia boats and the planned Ohio-class Replacement (ORP) ballistic missile nuclear submarine will be built with gender neutral standards.
The Navy's remaining men-only surface ships — Cyclone Patrol Craft (PC), Avenger-class mine sweepers (MCM-1) and (for enlisted) Oliver Hazard Perry-class frigates (FFG-7) —will all leave the fleet by the mid-2020s and may not be worth integrating. The Navy will decide on the remaining ships by June 2014.