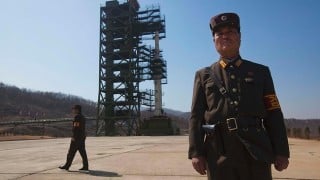 The Defense Intelligence Agency has "moderate confidence," North Korea has progressed enough to arm a missile with an atomic warhead, according to a passage of the unnamed DIA report read during a Thursday House Armed Services Committee meeting by Rep. Doug Lamborn, R-Colo.
However, according to missile experts from IHS Jane's and the Department of Defense, the threat from a North Korean nuclear missile is low.
The Pentagon issued a Thrusday statement following Lamborn's disclosure that said, "it would be inaccurate to suggest that the North Korean regime has fully tested, developed, or demonstrated the kinds of nuclear capabilities referenced in the passage."
David Reeths, director of IHS Jane's Consulting, said the reliability of a North Korean missile to deploy a nuclear warhead would be questionable and the warhead itself would not meet half the power of the weapons used at Hiroshima or Nagasaki, Japan at the close of World War II.
"Even were they able to successfully launch a warhead on one of their tested missile systems (and even those systems are unreliable by international standards), the three nuclear tests they conducted in 2006, 2009 and earlier this year likely show that even under the most controlled conditions, their devices are unreliable and underwhelming," Reeths wrote in a statement provided to USNI News.
"This is clearly a very serious and dangerous situation, but considering the assured destruction of the North Korean regime (and likely much of the country) that would follow the even attempted use of a nuclear weapon, the cause for immediate distress is low."
Reeths went on to say, "Over the longer-term, the reality of a nuclear armed DPRK that is unlikely to stop developing, much less relinquish, its nuclear capability is going to have to be addressed, but there is no cause for panic."
In response to threats from North Korea, the U.S. Navy has deployed three guided missile destroyers with Aegis missile systems designed to intercept ballistic missiles.