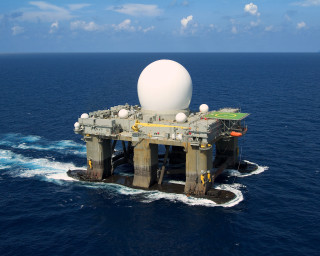 The Pentagon is sending the USS John S McCain (DDG-56) and the oil-derrick size radar, SBX-1 closer to North Korea, according to several news reports.
McCain left Monday from Yokosuka, Japan towards the Korean peninsula. The Arleigh Burke destroyer fields an Aegis system upgraded able to perform ballistic missile defense (BMD) missions.
The SBX-1, CNN reported, was also positioned closer to North Korea. The powerful and mobile radar is part of the U.S. ballistic missile defense network. It's designed to detect and track long-range ballistic missiles in midcourse. In the past the radar has been used to track North Korean missile and rocket tests.
The movement of the two assets could be in advance of, "other naval deployments," CNN reported. In recent periods of tension with North Korea the U.S. has deployed the USS George Washington (CVN-73) carrier strike group to Korea.
In the last week, the U.S. has sent two F-22 Raptor fighters on static display in South Korea as well as conducted simulated bomb runs with B-2 Spirit stealth bombers.