Sean Stackley, assistant secretary of the Navy (ASN) (Research, Development & Acquisition (RDA), is currently leading U.S. Navy and Marine Corps acquisition programs through the most fiscally austere Department of Defense budget in recent memory.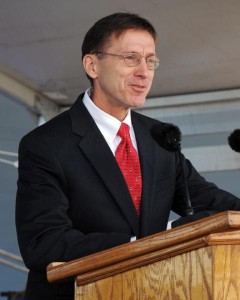 He's helmed RDA since 2008 and overseen some of the navy's more complicated shipbuilding programs. Those include the San Antonio class (LPD-17), the block purchase of the Littoral Combat Ship (LCS) and the Gerald R. Ford class next-generation carrier (CVN-78), among others.
As budgets tighten, Stackley is tasked with stretching the service's budget dollar to produce the 306 ship navy service leaders have called for. Looking for more "80 percent solutions," Stackley has to also shepherd the upcoming Ohio class Replacement (OR) program as well as the Arleigh Burke class (DDG-51) Flight III program.
The current issue of Proceedings includes an exclusive interview with Stackley on the navy's shipbuilding programs.