The commander of the U.S. Pacific Fleet told a morning audience at the WEST 2013 convention that the Pentagon's decision to rebalance its focus to Asia and the Pacific is strategically sound militarily and is vital in helping to ensure a stable world economy.
Adm. Cecil D. Haney noted that 15 of the world's 20 largest seaports are in Asia and the Pacific, and $5.3 trillion in global trade passes through the South China Sea alone. "Clearly, we, the United States of America, have an interest in that area," Haney said.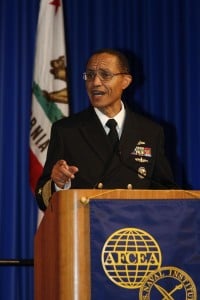 Critical in maintaining security in the area, Haney said, is building relationships and trust with the numerous nations that have a stake in the area, China included. He called for "increased interaction with allies, partners and friends in the region."
"Establishing and building relationships is an important focus," Haney explained, whether through bilateral exercises and training exercises, or through a newfound focus on learning about the cultures of the people and the history of the region.
"The relationships we establish are critical in creating relevant and interoperable capabilities."
That said, Haney reminded his audience that "we must be ready to face challenges in this region" through sustained maintenance, planning and training.
He also spoke of the ample amount of uncertainty in that part of the world, and he pointed to North Korea and several areas of conflicting sovereignty claims in the South China and East China seas as being especially troublesome "friction points" that can be "ripe for miscalculation."
Recently, for example, Japan and China set jet fighters to what the Japanese call the Senkaku and the Chinese call the Diaoyu. The islands are uninhabited, but sit in a strategic location between Japan and Taiwan.
"We don't pick sides, but we want to see peaceful resolution," Haney said.
The admiral briefly alluded to a subject broached repeatedly the prior day: Continuing budget resolutions and sequestration. He said the uncertainty already has resulted in the Navy's maintenance accounts to be underfunded by $3 billion. Sequestration, Haney said, would mean an additional $4 billion to $5 billion in cuts this year.
Despite the ongoing budget challenges, Haney cited several recent improvements to the Navy's Pacific Fleet, including the deployment of Virginia-class submarines, the United States' newest and most advanced sub; the Osprey MV-22, which can be seen regularly flying in the skies above San Diego County; the Growler EA-18G, which will be the cornerstone of the naval Airborne Electronic Attack mission; and commissioning of San Antonio-class landing platform docks.
"We can ill afford," Haney concluded, "to not be ready."
David Ogul is a freelance writer and editor based in San Diego who has worked for newspapers in Southern California for more than three decades.