Naval History Magazine, December 2012
Hull, Bainbridge, Stewart—the roll call of Old Ironsides' commanders during the War of 1812 conjures a series of sea fights that helped put the young U.S. Navy on the map.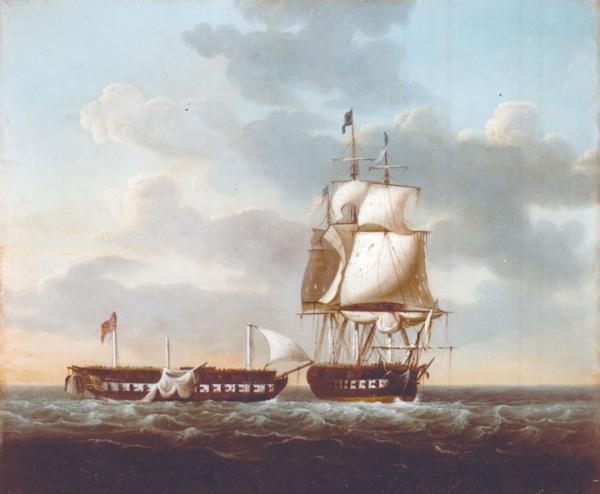 The outbreak of the War of 1812 in June of that year pitted a U.S. Navy of fewer than two dozen ships of all sizes against the elephantine Royal Navy, which had almost that many ships of 100 guns or more. Furthermore, the officers and men manning that fleet had had nearly two decades of real-world combat experience. Among our fledgling officer corps of that day, only one senior seagoing officer had experienced a ship duel (and, ironically, he never managed to gain the glory of another during the new conflict). The frigate Constitution , one of the largest American warships, had three captains and two crews between 1812 and 1815, virtually none of whom had any combat experience—and yet they managed to amass an unbroken string of victories. These were those leaders.
A Connecticut Yankee, son of a Revolutionary brigadier general, short, rotund Isaac Hull went to sea at an early age at his father's urging and already had qualified as a ship's master by 1798, at age 25. He accepted a proffered commission as a lieutenant in the then forming U.S. Navy in March of that year and, having had little formal education, hired a tutor to improve his penmanship and letter-writing ability. He was assigned to the Constitution, and during nearly four years in the frigate, he rose from fourth to first lieutenant, serving in her throughout the 1798–1801 Quasi War with France.
Detached from the Constitution in April 1802, Hull next became first lieutenant of the light frigate John Adams , but soon was ordered to command of the schooner Enterprize . He sailed her to the Mediterranean then exchanged commands with Stephen Decatur, taking over the brig Argus . Promoted to master commandant in May 1804, he was one of Commodore Edward Preble's "boys"—that generation of young officers destined to shape the legacy of the Old Navy. In early 1805 Hull provided the naval-command component in the successful taking of Derne, Tripoli, by General William Eaton and a force of U.S. Marines and Arabs. Ordered home later that year, after peace had been gained, Hull was promoted to captain in April 1806.