Proceedings, Oct. 2012
Lockheed Martin's Missiles and Fire Control business unit started a series of airborne "captive-carry" testing in May on the sensor suite planned for use for a long-range antiship missile (LRASM). It is being developed for fielding aboard Ticonderoga -class cruisers and Arleigh Burke –class destroyers.
The LRASM program is a science-and-technology (S&T) development initiative managed by the Defense Advanced Research Projects Agency (DARPA) Advanced Weapon Systems Initiative and the Office of Naval Research.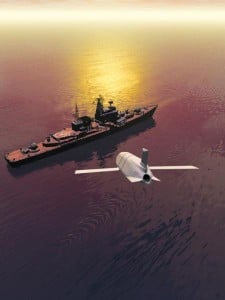 Navy and DARPA officials say that the current UGM-84 Harpoon antiship missile, in service since 1977 and now on board theTiconderogas and Burkes , will in the future be less capable of penetrating advanced defenses on ships of potentially hostile navies. According to DARPA, without a new weapon, antiship operations against those defenses would require multiple launches and the use of overhead targeting assets.During an initial phase of the program, DARPA in July 2009 awarded Lockheed Martin a $9.9 million contract for demonstration of a new LRASM concept. The program aims at developing a low-signature subsonic missile that uses the airframe built for the AGM-158 joint air-to-surface standoff missile-extended range, also developed by Lockheed Martin and now in production for fielding aboard Air Force strategic bombers and USAF and Navy tactical aircraft.
In late 2010 Lockheed Martin won a second DARPA award for rapid development and demonstration of a ship-launched missile "capable of achieving mission kill against selective surface targets at significant standoff ranges." LRASM would be launched from the ships' Mk-41 vertical-launch-system missile canisters.
For LRASM phase 2, Lockheed Martin conducted the captive-carry testing of the LRASM sensor package, which is provided by BAE Systems Information and Electronic Systems, on board a modified Sabreliner business jet off the Florida coast.
Lockheed Martin says the sensor suite includes a digital anti-jam GPS, RF sensor, communications datalink, and an electro-optical seeker for identification and precision targeting during the missile's terminal phase, enabling it to attack specific targets among groups of ships. According to the company, the sensor package will allow the missile to home in on targets autonomously without relying on external targeting systems, thereby limiting its vulnerability to hostile jamming.
Company officials say the testing, which consisted of target detection, classification, and recognition at varying speeds and altitudes, "exceeded all objectives and demonstrated successful sensor operation." The company adds that the tests also demonstrated effective integration of the sensor suite with missile electronics. The sensor suite obtained imagery on littoral environments, and the target data-processing algorithms operated as designed.
DARPA says that the Sabreliner testing "successfully demonstrated all elements of the integrated sensor suite, including sensing and fuzing targets and validation of the geolocation algorithm."
Lockheed Martin is developing air- and ship-launched LRASM variants for operations against ships "at significant standoff ranges."
DARPA says that the testing of the LRASM sensor package will continue through this year and into 2013 at higher levels of complexity, aiming at a first flight of the LRASM all-up round, which DARPA calls a "tactically relevant missile prototype," also next year.
The agency says that work is under way to modify the missile airframe, design a booster separation system, and develop a "hybrid" launch canister, which will be compatible with the Mk-41 VLS, aiming at shore-based ballistic-test surface launches in late 2014. The surface launches will conclude the S&T effort; the Navy then will decide whether to transition LRASM to an acquisition program.