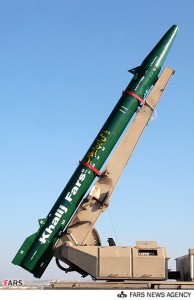 As the United States continues to help Israel improve its missile defense shield due to growing fears of possible attack by Syria and Iran, claims by Iran that it has developed its own 'carrier-killer' that can evade U.S. Navy defense systems to hit ships in the Persian Gulf are drawing skepticism from naval experts.
As first reported by Jane's Defence Weekly, Iran released images of a test last month in which the Khalij Fars antiship ballistic missile was launched and struck a moving target. The missile is purported to be a smaller version of China's modified Dong Feng 21, which was quickly dubbed the 'carrier killer' after it was revealed in a March 2009 report by the U.S. Naval Institute.
Like the Dong Feng 21, the Khalij Far is alleged to be able to track moving ships and then take a flight path that attacks though a "hole" that is not covered by the U.S. air defenses, designed to guard against antiship missiles that approach from more typical altitudes and angles.
If real, the Khalij Fars would pose a significant threat to U.S. ships in the waters near Iran. While the missile's touted range of 185 miles falls well below the Dong Feng 21 reach of 1,240 miles, it would be enough to strike anything in the Strait of Hormuz within a few minutes.
An infographic published on the official Hezbollah website on 21 July illustrated an attack on a U.S. aircraft carrier using the Kahlij Fars and other missiles in the Iranian arsenal.
However, experts dismiss the claims as propaganda that exaggerates the capabilities of the Khalij Fars while underestimating the effectiveness of U.S. antimissile systems.
Rear Admiral Tom Marfiak, USN (Retired), the antiair warfare commander during Operation Desert Shield and Operation Desert Storm, believes that although the U.S. Navy is well equipped to take out incoming missiles no matter what their angle of approach, it would probably be easier to destroy the drones or aircraft that the Iranians would need to guide a missile such as the Kahlij Fars to a moving target.
"A key thing to keep in mind… if Iran were to decide to employ such a weapon against a U.S. Navy destroyer or cruiser, there would be immediate consequence," said Marfiak. "There would likely be more than one U.S. combatant involved, so defense in depth is present. The [missile] battery would be a likely target, as would be any other launch facilities."
Naval analyst Norman Friedman doubts the images of the Kahlij Fars test were real.
"The Iranians are notorious for faking tests and camera footage, and for inventing entirely false but ingenious claims," said Friedman.
He believes the missile is a prototype with no current capabilities other than to fool the Iranian public.
"The Iranians have to assure their own population that their defense will work, because if a panic sets in, the regime may collapse," said Friedman. "It is already under considerable pressure due to economic trouble, not to mention anger over repression. You see constant statements in their press claiming that any attempt to attack Iran is doomed from the start
Eric Wertheim, author of Combat Fleets of the World, agrees.
"It is certainly in Iran's best interest to advertise this weapon, but whether or not this is a true silver bullet capability remains highly uncertain -and probably unlikely," said Wertheim. "By hyping its own military prowess, Iran hopes to intimidate potential adversaries while boosting the confidence of their own Iranian forces."