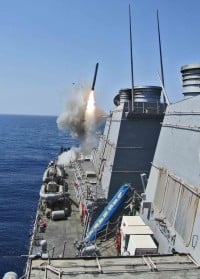 Raytheon Missile Systems, prime contractor for the ship- and submarine-launched Tomahawk land-attack missile, is moving into production of a new order of Block IV all-up round missiles under a new contract, valued at $337.8 million, awarded by the Naval Air Systems Command (NAVAIR) in June. Deliveries are set to start in 2013.
Meanwhile, the company is awaiting a NAVAIR decision on a sole-source award for development of an offensive antisurface weapon that would adapt Tomahawk subsystems to convert missiles to that new configuration. The plan is contingent on congressional approval and availability of funding.
Tomahawk, the Navy's primary long-range land-attack missile, is deployed to some 140 ships including Ticonderoga -class cruisers and Arleigh Burke –class destroyers, as well as Ohio -class guided-missile submarines and Los Angeles – andSeawolf -class attack subs. It also is fielded by the Royal Navy's Astute – and Trafalgar -class submarines. The U.S. Navy plans to field Tomahawk aboard the three Zumwalt -class land-attack destroyers now under construction and on Virginia -class attack subs. The cruisers and destroyers launch Tomahawk from the belowdecks Mk-41 vertical-launch system; the SSGNs launch the missile from vertical missile tubes and the attack subs from torpedo tubes.
Block II and Block III Tomahawks were employed extensively during Operation Desert Storm, with ships and submarines launching about 290 missiles. Tomahawks subsequently were used during Operation Southern Watch in 1992, Enduring Freedom in 2001, and Iraqi Freedom in 2003.
Roy Donelson, program director for Tomahawk at Raytheon, said the company marked the 500th successful Tomahawk operational test launch last year, in addition to some 2,000 combat launches since the missile entered the Fleet. The destroyer USS Barry (DDG-52) launched the 2,000th missile on 19 March 2011 during Operation Odyssey Dawn in support of the U.N. campaign in Libya. The guided-missile sub Florida (SSGN-728) launched 90 Tomahawks during Odyssey Dawn.
The Navy first fielded the Block IV "Tactical Tomahawk" upgrade in 2004, adding a two-way datalink and an eight-channel antijam global-positioning-system receiver (GPS had been introduced with Block III) to permit expanded in-flight control, including the ability to loiter, accept retargeting commands, and conduct damage assessment with an optical digital camera called the digital scene-mapping area correlator.
Donelson said a key upgrade introduced with Block IV is the capability, using the new onboard datalink, to maintain two-way communications with the missile and thereby control it during flight to its target. The Tactical Tomahawk weapon-control system (TTWCS) processes targeting data provided by remote sensors on satellites and aircraft, or by ship- or shore-based sensors, and communicates with the missile by means of the datalink. In a 2009 test, Tomahawk accepted live targeting data from a portable Joint Strike Planning and Execution Auto Router, or JSPEAR. Using the updated data, the TTWCS can redirect the missile to secondary targets selected during mission planning. The new GPS, Donelson said, has reduced the time needed for mission planning from about 80 hours for earlier Tomahawk variants to one hour for the Block IV missile.
The Fiscal Year 2012 contract award will purchase 361 Block 4 missiles, 238 for launch from the Mk-41 VLS, and 123 for submarines fitted out with the capsule-launch system. Donelson pointed out that Raytheon already is in full-rate production on Block IV missiles purchased with earlier contracts.
For the new offensive antisurface weapon, NAVAIR seeks to award Raytheon the work on integrating sensors, targeting-correlation algorithms, and weapons-capable radio subsystems on board the Block IV missile for deployment in the 2015 time frame. NAVAIR officials say that the new system would be a semi-autonomous weapon capable of detection, discrimination, and terminal guidance to a moving target.
The NAVAIR presolicitation announcement adds that the Block IV Tomahawk's operating range, in-flight command-and-control (C2) capability, vertical-launch compatibility, the TTWCS, and Tomahawk C2 system will "ensure that integration and performance capability requirements can be achieved with available resources and provide the nearest-term initial operational capability."