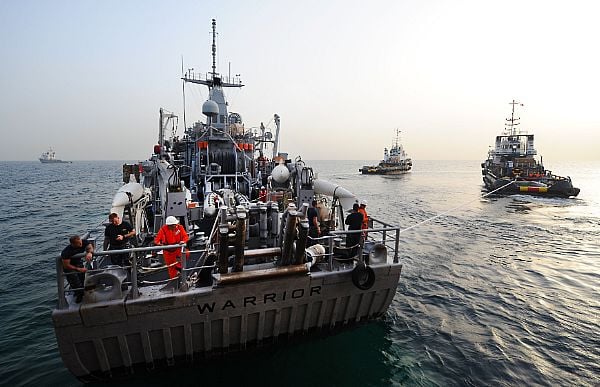 When an obviously lost tourist approached Arthur Rubenstein on a Manhattan street and asked how to get to Carnegie Hall, the piano virtuoso replied: "Practice, practice, practice!"
So it is for the U.S. Navy and partner navies' mine countermeasures (MCM) forces operating in the Arabian Gulf in mid-2012. Hosted by the U.S. Naval Forces Central Command (USNAVCENT), the International Mine Countermeasures Exercise 2012 (IMCMEX 12) is an international symposium and associated afloat exercise of mine countermeasure capabilities, scheduled for 16 to 27 September at multiple locations in the USNAVCENT area of operations. MCM assets from more than 20 countries on four continents will participate, making it the largest MCM exercise to date.
The operation is "a defensive exercise aimed at preserving freedom of navigation in international waterways in the Middle East," Pentagon spokesman George Little said. Washington has warned Tehran not to mine the strategic Strait of Hormuz, which the Islamic republic has threatened to do unless international sanctions against its nuclear program are pulled back.
Although IMCMEX 12 is taking place in the Arabian Gulf, it won't be conducted in the Strait of Hormuz, said Lt. Greg Raelson, Commander Fifth Fleet public affairs in a 20 July telephone interview. "The exercise focuses on a hypothetical threat from an extremist organization to mine the international strategic waterways of the Middle East, including the Red Sea, the Gulf of Aden, the Gulf of Oman and the Arabian Gulf."
Focused as it might be on a "hypothetical threat," it's hard to imagine the honed skills would not be valuable in a mine-warfare dust-up with Iran.
The Obama administration has publicly dismissed Iran's threats to close the strait as just "saber rattling," but privately informed Tehran that any attempts to do so would trigger a U.S. military response.
"We would, under the direction of the national leadership, prevent that from happening," Vice Adm. Mark Fox, then-commander of the 5th Fleet, said in a 12 February interview. "We always have the right and obligation of self-defense and this falls in self-defense. If we did nothing and allowed some mining, it would be a long and difficult process to clear them."
"Exercises like IMCMEX 12 expand levels of cooperation, enhance mutual maritime capabilities and promote long-term regional stability and interoperability between U.S. and international partners, while better preparing the international community to deal with disruptions to freedom of navigation and international commerce," LT Raelson said.
After Washington announced plans for the multinational IMCMEX, Iran's Revolutionary Guards on 18 July ridiculed U.S. claims that it could clear gulf waters of mines in case of conflict. "The Americans boast a lot about many things, but they are facing problems in practice," General Mahmoud Fahimi, deputy chief of the Iranian Revolutionary Guards' naval forces, told the Fars news agency and Ahramonline/Agence France-Presse. "We have no doubt that the United States cannot do anything in the area of minesweeping." He bragged Iran was "a master of mine designing and has an unbeatable capability to mass-produce different types of mines."
Despite Iran's rhetoric, Little said the September minesweeping exercise is a defensive drill and is "not . . . aimed to deliver a message to Iran."
"IMCMEX 12 demonstrates the international community's ability to work together to ensure free and secure trade," said Gen. James N. Mattis, commander of the U.S. Central Command. "Of the approximately 40 bilateral and multilateral exercises we'll conduct this year, this exercise also represents the extensive cooperation we enjoy with our international partners—both in and outside the region—with mutual economic and security interests. We'll finish this exercise with even stronger relationships with our partners."
The exercise will focus on MCM operations, with an emphasis on command-and-control," Lt. Raelson explained. "The exercise will also include MCM support activities; intelligence, surveillance and reconnaissance support; maritime security operations; visit, board, search and seizure events; maritime critical infrastructure protection; explosive ordnance disposal; maritime domain awareness and force protection."
The Pentagon this year has doubled the number of minesweepers in the region and deployed the USS Ponce, an amphibious transport dock retrofitted as in interim afloat forward staging base. Four more minesweepers based in San Diego and four more MH-53E Sea Dragon minesweeping helicopters assigned to Helicopter Mine Countermeasures Squadron-15 in Norfolk were deployed to the Arabian Gulf, joining MCM assets already based with the 5th Fleet in Bahrain under a forward-deployed arrangement. The ships remain in the region year-round, while their crews rotate in and out at six-month intervals from the mine force's San Diego home. The eight in-theater Avenger-class ships are Ardent, Devastator, Dextrous, Pioneer, Scout, Sentry, Pioneer and Warrior. Four other MCM ships of the class are forward-deployed to Sasebo, Japan––Avenger, Defender, Guardian and Patriot––leaving only two ships, Champion and Chief, in San Diego.
U.S. explosive ordnance disposal divers round out the Navy's surface and airborne MCM capabilities that will be exercised in September.
One of the Fifth Fleet's MH-53 Sea Dragons crashed near Oman on 19 July while conducting heavy-lift support operations, killing two on board: Chief Aviation Warfare Systems Operator Sean P. Sullivan, 40, of St. Louis, and Naval Aircrewman (Helicopter) Second Class Joseph P. Fitzmorris, 31, of West Monroe, La. The accident remains under investigation, but the Navy has said it was not due to hostile action.
No word whether the USN's marine mammal systems might also be deployed during IMEMEX 12. The MMS include highly trained bottlenose dolphins capable of detecting and defeating buoyant mines in the water column or close-tethered to the bottom, and bottom-resting and buried weapons. According to the Navy's mine warfare "primer" (21st Century U.S. Navy Mine Warfare: Ensuring Global Access and Commerce), the MCM dolphins deployed to the Persian Gulf in 1988 during Operation Earnest Will, in 1991-92 during Operation Desert Storm/Desert Sweep, and in 2003 in support of Operation Iraqi Freedom.
Raelson declined to say what other navies might be included in the exercise.
For the past few years, four small U.K. mine-hunters have been maintaining a valuable if unsung presence in the waterway. It is one that Britain's allies value very highly, according to the Royal Navy. That mine-hunter force is spread thinly, so to maintain a four-vessel commitment in the gulf the ships are stationed there for years, rotating crews every six months or so. Those assets will certainly be important elements of IMCMEX 12.
Also included will be a Royal Australian Navy Clearance Diving Teams, comprising sailors expert in diving, MCM and EOD, anti-piracy and counterterrorism operations.
Japan's Maritime Self-Defense Force (MSDF) also will participate in IMCMEX 12, Defense Minister Satoshi Morimoto said on 20 July. An MSDF minesweeper and its mother ship, along with 180 MCM experts will participate in the drill, Morimoto told a news conference. Under Japan's constitution, MSDF minesweeping activities on the high seas are limited to neutralizing abandoned. The types of exercises that the minesweeper can participate in are also limited. The MSDF took part in a multinational minesweeping exercise in Persian Gulf waters near Bahrain last October.
Another 16 or so regional navies will be involved.
Responding to reports that U.S. MCM forces are relying on the advanced Sea Fox remotely operated vehicle––among other minehunting and minesweeping systems––to defeat "hypothetical threats," Iran's General Fahimi sneered, "Look how weak they are. They want to use minesweeping drones. If they had the ability and capability, they would carry out the minesweeping by manned systems."