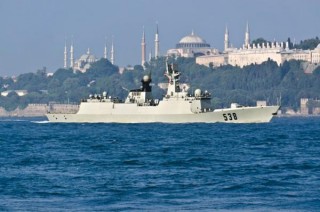 The ever-growing reach of China's navy was demonstrated recently when two of its warships sailed through the Turkish Straits and into the Black Sea for the first time. The two ships, the Luhu-class destroyer Qingdao and Jiangkai II–class frigateYantai (pictured here), entered the Black Sea on 31 July. They then veered off on their own separate visits, with the Qingdaotraveling to Sevastopol, Ukraine, while the Yantai made her own port calls at Costanta, Romania, and Varna, Bulgaria, before the vessels sailed back through the Bosporus and the Dardanelles in early August. Both ships, along with the replenishment oiler Weishanhu , had recently completed anti-piracy patrols
Photo courtesy Cem D. Yaylali
in the Gulf of Aden and off the coast of Somalia. Although the destroyer and frigate entered the Black Sea, the larger 23,000-ton Weishanhu remained docked at Istanbul. Once the ships departed the area, they made a brief stop at Haifa, Israel, before returning home to Chinese waters.