Proceedings, Oct. 2012
Lockheed Martin's Missiles and Fire Control business unit started a series of airborne "captive-carry" testing in May on the sensor suite planned for use for a long-range antiship missile (LRASM). It is being developed for fielding aboard Ticonderoga -class cruisers and Arleigh Burke –class destroyers.
The LRASM program is a science-and-technology (S&T) development initiative managed by the Defense Advanced Research Projects Agency (DARPA) Advanced Weapon Systems Initiative and the Office of Naval Research.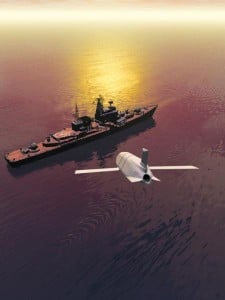 Navy and DARPA officials say that the current UGM-84 Harpoon antiship missile, in service since 1977 and now on board theTiconderogas and Burkes , will in the future be less capable of penetrating advanced defenses on ships of potentially hostile navies. According to DARPA, without a new weapon, antiship operations against those defenses would require multiple launches and the use of overhead targeting assets.During an initial phase of the program, DARPA in July 2009 awarded Lockheed Martin a $9.9 million contract for demonstration of a new LRASM concept. The program aims at developing a low-signature subsonic missile that uses the airframe built for the AGM-158 joint air-to-surface standoff missile-extended range, also developed by Lockheed Martin and now in production for fielding aboard Air Force strategic bombers and USAF and Navy tactical aircraft.