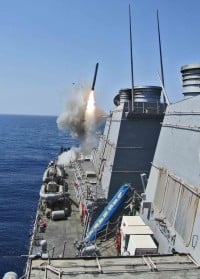 Raytheon Missile Systems, prime contractor for the ship- and submarine-launched Tomahawk land-attack missile, is moving into production of a new order of Block IV all-up round missiles under a new contract, valued at $337.8 million, awarded by the Naval Air Systems Command (NAVAIR) in June. Deliveries are set to start in 2013.
Meanwhile, the company is awaiting a NAVAIR decision on a sole-source award for development of an offensive antisurface weapon that would adapt Tomahawk subsystems to convert missiles to that new configuration. The plan is contingent on congressional approval and availability of funding.
Tomahawk, the Navy's primary long-range land-attack missile, is deployed to some 140 ships including Ticonderoga -class cruisers and Arleigh Burke –class destroyers, as well as Ohio -class guided-missile submarines and Los Angeles – andSeawolf -class attack subs. It also is fielded by the Royal Navy's Astute – and Trafalgar -class submarines. The U.S. Navy plans to field Tomahawk aboard the three Zumwalt -class land-attack destroyers now under construction and on Virginia -class attack subs. The cruisers and destroyers launch Tomahawk from the belowdecks Mk-41 vertical-launch system; the SSGNs launch the missile from vertical missile tubes and the attack subs from torpedo tubes.
Block II and Block III Tomahawks were employed extensively during Operation Desert Storm, with ships and submarines launching about 290 missiles. Tomahawks subsequently were used during Operation Southern Watch in 1992, Enduring Freedom in 2001, and Iraqi Freedom in 2003.