In July, I was on a warship for the first time in almost two years when I rode USS Dwight D. Eisenhower (CVN-69) to the pier at Naval Station Norfolk, Va.
For the bulk of the pandemic, the USNI News team and our contributors were forced to work remotely across the globe to tell the stories of the Sea Services without seeing ships, sailors or Marines with our own eyes.
Our pandemic coverage was driven by record deployments for carrier strike groups struggling to keep pace with Pentagon demands under the restrictions of COVID-19.
When USS Nimitz (CVN-68) returned to Bremerton, Wash., in January the crew had been apart from their families for 341 days in part due to COVID-19 precautions but also due a requirement from the Secretary of Defense to keep the strike group there as a hedge against turmoil in the Middle East in U.S. 5th Fleet. Along with Nimitz, Eisenhower and USS Theodore Roosevelt (CVN-73) both left on their own back-to-back deployments.
When I touched down on IKE in July, I knew well how much the carrier force was under strain from the reporting USNI News did on its awarding winning feature piece, No Margin Left: Overworked Carrier Force Struggles to Maintain Deployments After Decades of Overuse.
While I was expecting an exhausted crew with low morale, what I found were sailors in high spirits who had kept the more than 40 year-old carrier running well at the tail end of its second back-to-back six-month deployment. In fact, the strike had only three separations for mental health issues — well under the fleet average.
While we saw doom and gloom in the numbers, being underway gave us a fuller perspective on how sailors are rising to the challenges of an overworked Navy and show us — not tell us — the resiliency of the fleet.
In 2022, we want to tell more stories like what I saw on the IKE from around the world. Not only from Norfolk but also from the Western Pacific. China's maritime rise is the most important story today for the Sea Services and for USNI News to tell the whole story — we must be there.
That's why with your generous donations USNI NEWS will provide us the money for travel and equipment to cover the news from deck plates and with your help we will return — BACK TO THE FLEET!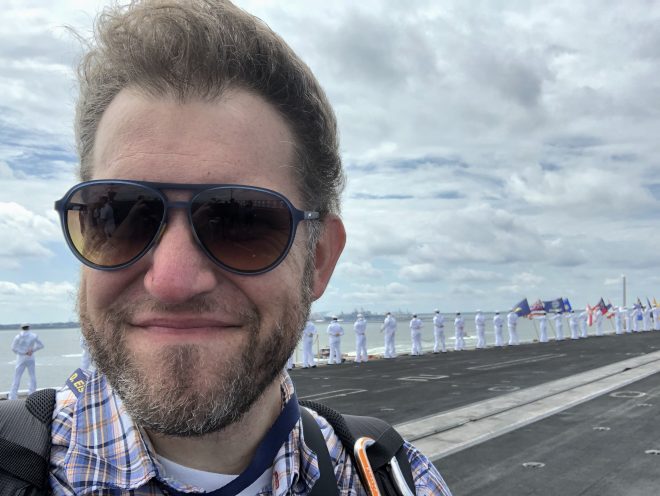 -Sam LaGrone
USNI News editor