This post was updated to include a Tweet from Patrick Shanahan about his nomination.
Former Boeing executive Patrick Shanahan will be nominated by President Donald J. Trump on Thursday to become the permanent secretary of defense, a position he's held on an acting basis since the start of the year.
Shanahan had been deputy secretary of defense until his predecessor James Mattis announced his intention to resign. After initially saying he would resign in February, Trump had Mattis move up his departure date to Jan. 1.
"Based upon his outstanding service to the country and his demonstrated ability to lead, President Trump intends to nominate Patrick M. Shanahan to be the Secretary of Defense," White House Press Secretary Sarah Sanders said in a statement released on Twitter confirming the news that was broken by Bloomberg reporter Jennifer Jacobs.
SCOOP: Trump will announce a new cabinet nomination today: Patrick Shanahan for defense secretary, sources tell me.

— Jennifer Jacobs (@JenniferJJacobs) May 9, 2019
In a pair of Tweets, Shanahan said, "I am honored by today's announcement from @PressSec. If confirmed by the Senate, I will continue the aggressive implementation of our National Defense Strategy. I remain committed to modernizing the force so our remarkable Soldiers, Sailors, Airmen, and Marines have everything they need to keep our military lethal and our country safe."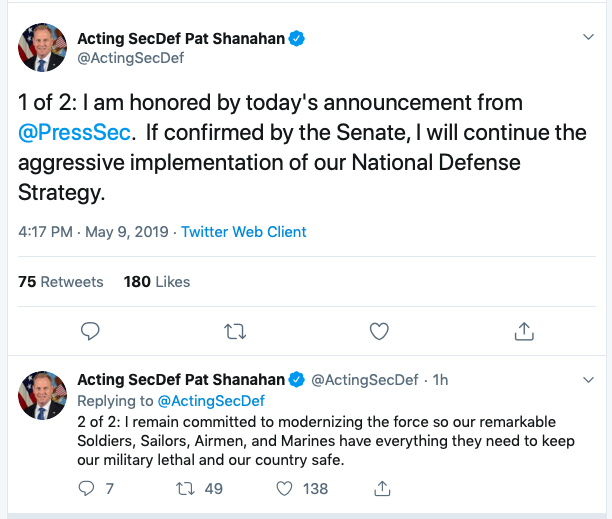 As acting Secretary of Defense, Shanahan shepherded the $718 billion Fiscal Year 2020 budget request from planning to consideration on Capitol Hill.
The budget request included some quirks compared to previous years' requests, such as seeking to use $165 billion in the Overseas Contingency Operations (OCO) fund to help pay for defense activities. In comparison, last year Congress appropriated a total of $68.8 billion in OCO funding.
Among the most contentious suggestions in the FY 2020 request was the Navy's proposal to skip a scheduled refueling and complex overhaul (RCOH) for USS Harry S. Truman (CVN-75) that was scheduled to occur during FY 2024.
Appearing before the Senate Armed Services Committee in March, Shanahan told lawmakers the Pentagon's two-carrier deal will save the Navy $4 billion and retiring Truman would save an additional $3.4 billion over five-year future years defense plan.
However, lawmakers never warmed to the idea there was value in retiring Truman early. Responding to Shanahan's explanation, Sen. James Inhofe (R-Okla.), the committee chair, said, "I'm still not happy with the results of that, and my mental numbers don't agree with that."
Last week Vice President Mike Pence, while visiting Truman, announced the White House was changing course and opting to seek funding to refuel Truman.
At Boeing, Shanahan worked in both the aircraft manufacturer's commercial and defense sectors. He worked on such programs as Boeing's Missile Defense Systems and general manager of Rotorcraft Systems which includes the Boeing's work on the V-22 Osprey tiltrotor program. Shanahan was also the general manager of Boeing's 787 Dreamliner program.