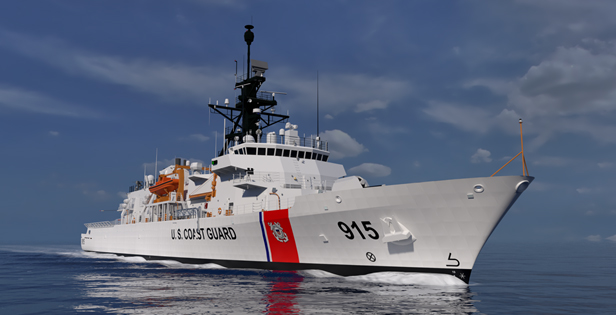 The Florida shipyard building the Coast Guard's first Offshore Patrol Cutter has gotten back to work as it continues to recover from the damage inflicted by Hurricane Michael last month.
In a Thursday statement, Eastern Shipbuilding Group announced the yard was back in operation after the Oct. 10 landfall of the category 4 hurricane that devastated the Florida panhandle.
"Immediately following the storm, ESG set out on an aggressive initiative to locate all of its employees and help get them back on the job as soon as practical after they took necessary time to secure the safety and security of their family and home," the yard said in a statement.
"ESG has worked closely with its federal, state and commercial partners over the past two weeks to provide updates on the shipyard as well as on projects currently under construction."
The group's two facilities in Panama City regained power about two weeks after the storm's landfall, and the workers that had been constructing the first OPC, the future USCGC Argus (WMSM-915) have slowly returned to the
ESG said that their yards have reached 80-percent staffing levels in the last several weeks.
"We are grateful to our partners and the maritime business community as a whole for their support and confidence during the aftermath of this historic storm. Seeing our incredible employees get back to building ships last week was an inspiration," ESG president Joey D'Isernia said in the statement.
"While there is no doubt that the effects of Hurricane Michael will linger with our community for years to come, I can say without reservation that we are open for business and excited about delivering quality vessels to our loyal customers."
The Coast Guard awarded Eastern a $110-million contract for Argus in 2016, and that ship had just begun construction at the yard. Eastern was also set to build the future USCGC Chase (WMSM-916) as part of a contract for nine OPCs and options for two more. The Coast Guard is set to by 25 OPCs to replace the service's Medium Endurance Cutters for a program that could be worth up to $2.38 billion.