CAPITOL HILL — In Syria, the Pentagon appears poised to embark on a conflict with no clear end-strategy, members of the House Armed Services subcommittee on oversight and investigations said Wednesday.
The estimated 2,000 U.S. military personnel, including an unknown number of Marines stationed in Syria, were sent to fight Islamic State forces. But recent comments from senior Trump administration officials suggest the mission in Syria could expand.
"We're seeking clarity on President Trump's Syria policy," Rep. Seth Moulton (D-Mass.), the committee's ranking member said. "My question to the Trump administration is this, what is your strategy?"
"In Syria, our role is to defeat ISIS," Marine Corps Brig. Gen. Scott Benedict, the Joint Staff deputy director of Political-Military Affairs for the Middle East, said in response.
Benedict appeared before the committee with Robert Story Karem, the Assistant Secretary of Defense for International Security Affairs, who concurred the goal is to defeat ISIS.
But when speaking of Syria, answers hardly appear so quick or easy, Rep. Vicky Hartzler (R-Mo.), the subcommittee chair said during her opening statement.
"The Syrian situation is extraordinarily complex. Turkey, Iraq, Israel and Jordan are profoundly affected," Hartzler said. "The fact that Russia and Iran vigorously support the Assad regime also greatly complicates our efforts."
The presence of Russian and Iranian forces in Syria have resulted in two different views of the U.S. Syria mission, provided earlier in the week by President Donald Trump's National Security Advisor John Bolton and his Secretary of Defense James Mattis.
"Right now, our troops inside Syria are there for one purpose, and that's under U.N. authorization about defeating ISIS," Mattis said on Monday.
However the same day, Bolton said U.S. soldiers and Marines would not leave Syria as long as Iranian troops, including proxies and militias, remained in the country, The Washington Post reported.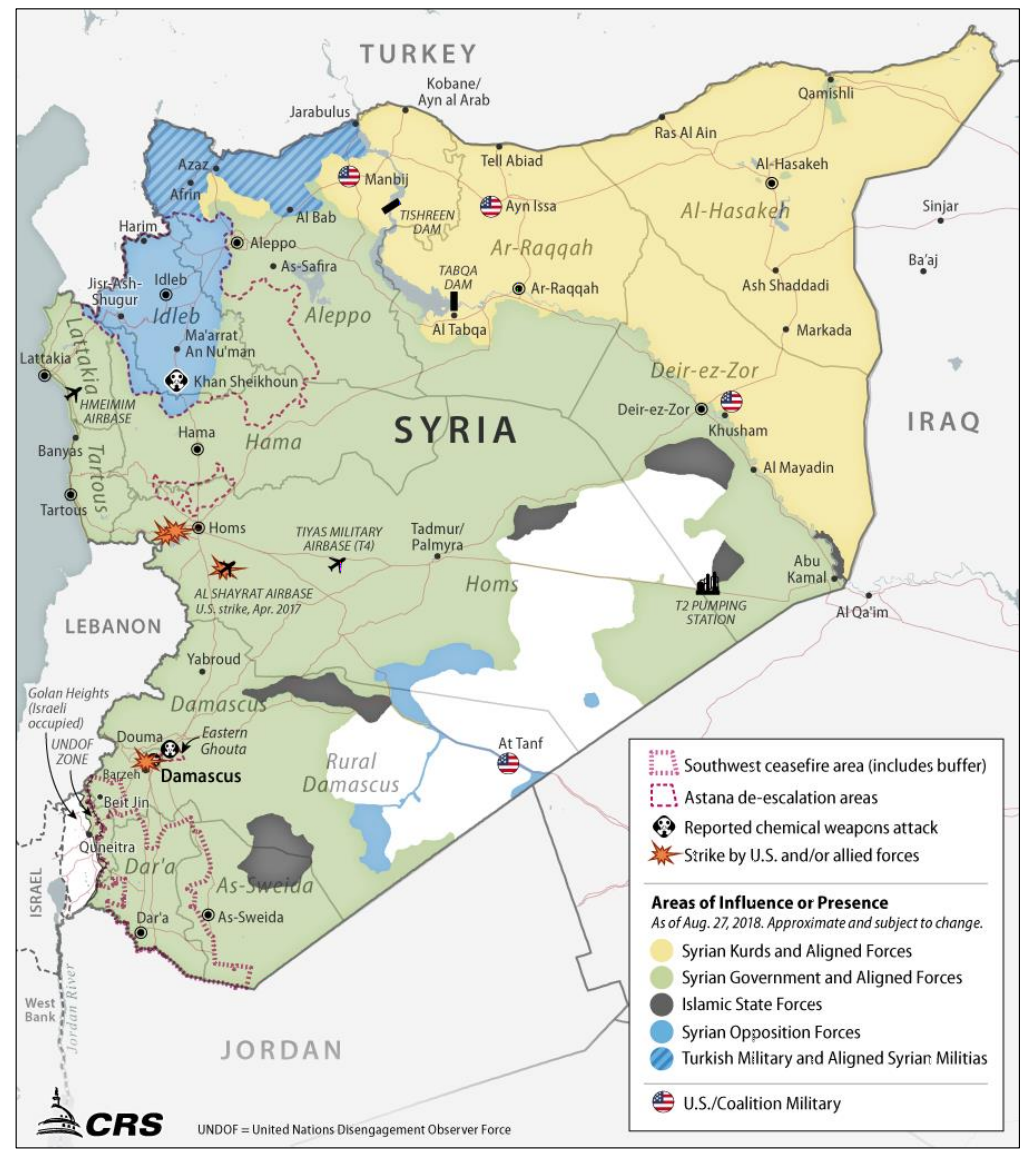 During Wednesday's hearing, Karem described the U.S. military's mission in Syria as being focused on, "the defeat of ISIS and Al Qaeda and affiliates, and to counter Iran's malign destabilizing influence."
The U.S. military presence in Syria can also work to limit the ability for Iranian forces and Iranian-backed militias to operate, Karem said.
The U.S. military might defeat ISIS and destroy its functional ability to reform, but Rep. Ruben Gallego (D-Ariz.) said he worried doing so is not the Trump administration's ultimate goal in Syria.
"It seems there's this other element where because the idea of ISIS may exist that is the pretext of why we should stay in Syria, when in fact it's just for us to be a buffer against Iran," Gallego said. "If that's the case you should come back to Congress and actually ask for that authorization."
Currently, the Pentagon is operating in Syria based on an authorization to combat terrorist organizations. This broad, seemingly borderless authorization, to be in Syria because ISIS is in Syria worried Rep. Austin Scott (R-Ga.).
"I don't think there was ever a win in Syria, just looking at things, for the United States. It's like a kaleidoscope, every time one thing change, something else changed," Scott said. "The Russians clearly had the high ground, just looking at the scenario. We're obviously there, the issue of the legality of use being there is ISIS is there."
The precedent the current Syria policy sets also worried Scott because future administrations could potentially abuse this ability to move U.S. military forces into countries based on fighting terrorist organizations.
"The idea that just because an organization by a certain name is in a country that gives us the ability to say well because they're there I've got the authorization to go in and do whatever I want to. I'm very concerned about the authorizations," Scott said.
U.S. soldiers and Marines are working to train local forces to take over the effort required to keep ISIS from regaining strength, Karem said.
For instance, earlier this month Marines from the 3d Battalion, 7th Marine Regiment, attached to Special Purpose Marine Air-Ground Task Force, Crisis Response-Central Command, conducted live-fire training with local anti-Assad regime forces at the Tanf Garrison in Syria, according to the Marine Corps.
Ultimately the goal is for more of these local forces to take over more of the security work. As for aiding diplomatic efforts to end the conflict, Karem was less upbeat.
"Iran's presence and malign activities make it increasingly unlikely we'll see an enduring political solution," Karem said.
"That's concerning, that comment right there," Hartzler said.