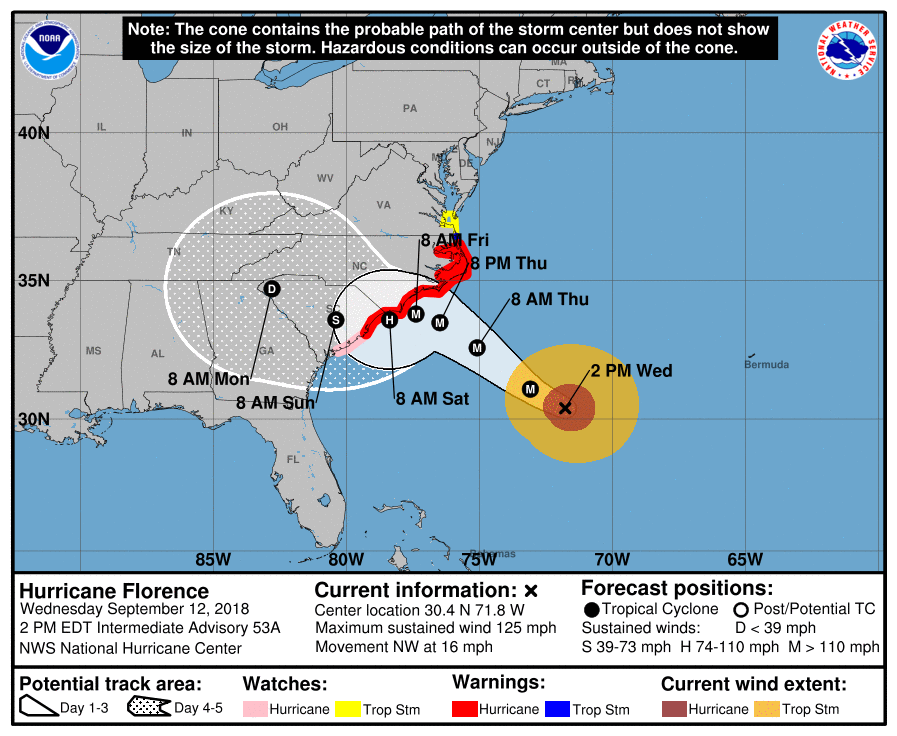 The Marine Corps encouraged personnel living at Camp Lejeune in North Carolina to shelter in place ahead of the arrival of Category 4 Hurricane Florence, despite state officials asking residents along the coast to evacuate inland ahead of the storm.
Brig. Gen. Julian Alford, commanding general of Marine Corps Installations East-Marine Corps Base Camp Lejeune, said that even though state officials wanted coastal towns cleared out ahead of the storm – which is expected to bring massive amounts of rain, heavy winds and storm surges – he was confident that those who live on base would be safer staying put.
"Camp Lejeune has endured countless destructive weather events over its 77-year history, and we will withstand the tough conditions ahead," Alford wrote in a social media message to the base community.
As Florence edges closer to shore, wind gusts of up to 110 mph are expected to occur along the North Carolina coast from Wilmington to Morehead City, according to AccuWeather forecasters. Camp Lejeune, home to II Marine Expeditionary Force (II MEF), 2nd Marine Division, 2nd Marine Logistics Group and Naval Medical Center Camp Lejeune, is located in the middle of this zone.
"This is not going to be a glancing blow. This is not going to be a tropical storm. This is not going to be one of those storms that hits and moves out to sea," Jeff Byard, Federal Emergency Management Agency associate administrator for response and recovery, said during a Wednesday media briefing about Florence. "This is going to be a Mike Tyson punch to the Carolina Coast."
Alford told the Marines and their families from Camp Lejeune and Marine Corps Air Station New River there would not be a mandatory evacuation order. In a detailed social media post, Alford explained his reasoning for not evacuating.
"We have hardened infrastructure and the support system necessary to deal with Florence's potential impacts; we have our own first responders to provide security and emergency response; there is the Naval Medical Center/Hospital for medical care; we produce and distribute our own water, and have the power generation capability to ensure we can continue to produce and distribute water; we have emergency shelters for those desiring to seek shelter; we have emergency supplies; we have our own waste-water treatment facility; we have our own trash collection and associated dump; we have our own public works department for roads, buildings, and infrastructure issues; we have large military vehicles and equipment staged and ready to assist if/when needed; and finally, we have Marines who will be ready to assist and take care of each other during this stressful time."
Alford also raised concerns about evacuation routes that are prone to flooding and already inundated with the region's civilian residents trying to seek shelter and avoid the storm's path. Plus, though Camp Lejeune is on the coast, Alford said the base is not in a flood-prone area.
"We have very reliable historical data on what areas would be affected by storm surges and flooding and have already directed the relocation of those personnel and residents away from those vulnerable locations," Alford's message said.
The base shelters will be safe, but not necessarily comfortable, according to a release from the Camp Lejeune public affairs office. Those seeking refuge on base were told to expect close quarters with strangers in spaces that might not be air conditioned. Also, everyone should bring their supplies, including toiletries, change of clothes, medications, pillows and sleeping bags, entertainment and three days' worth of non-perishable food for each family member.
"Marines take care of each other, and I will expend every available resource to make sure that happens," Alford's message said. "Further, if our neighbors in Jacksonville and Onslow County need our help, we will be ready to render assistance."
At the Marine Corps Recruit Depot (MCRD), Parris Island, S.C., officials initially planned to evacuate from the low-lying coastal base. Marine Corps officials canceled the evacuation when forecasters predicted Florence to track further north along the coast. Since that reversal of decision, though, forecasters have predicted the storm will turn south after hitting the North Carolina coast, potentially putting Parris Island back into the storm's path. Due to the unpredictability of the situation, Brig. Gen. James F. Glynn, the commanding general of MCRD Parris Island, wrote in a message posted on the base Facebook page that "we are not at a point where everyone is being released, nor where we are relocating recruits, but we have those plans ready should the storm track and situation change." He added that he would "encourage families who don't have a reason to remain on Parris Island to depart the area."
In Norfolk, concerns about flooding in low-lying areas prompted state officials to issue mandatory evacuation orders. The Navy instructed personnel living in the evacuation zones to follow the state order, including residents of a few public/private venture housing areas, according to a Navy release Wednesday.