This year's deadly decline in fleet readiness is caused, in part, by budget restraints says Navy leadership, but D.C. think tanks say the money is there, the problem is how it's spent.
Currently, the Navy spends about $837 million for training aboard ships, including funding for Aegis training, according to a report released last week by the Center for Strategic and International Studies. The report's author Seamus Daniels, research assistant for Defense Budget Analysis at CSIS, said this works out to about $3 million per ship in annual training aboard.
"This would be a very easy, and relatively inexpensive area to increase, in terms of providing more funding," said Todd Harrison, an analyst with CSIS.
For years, though, the Navy cited a lack of funds for creating situations where training in basic seamanship and navigation was either scaled back or not accomplished. After the Navy released last week's comprehensive review of fleet operations, Adm. John Richardson, Chief of Naval Operations, said insufficient seamanship and navigation training were major contributing factors to a string of deadly incidents at sea.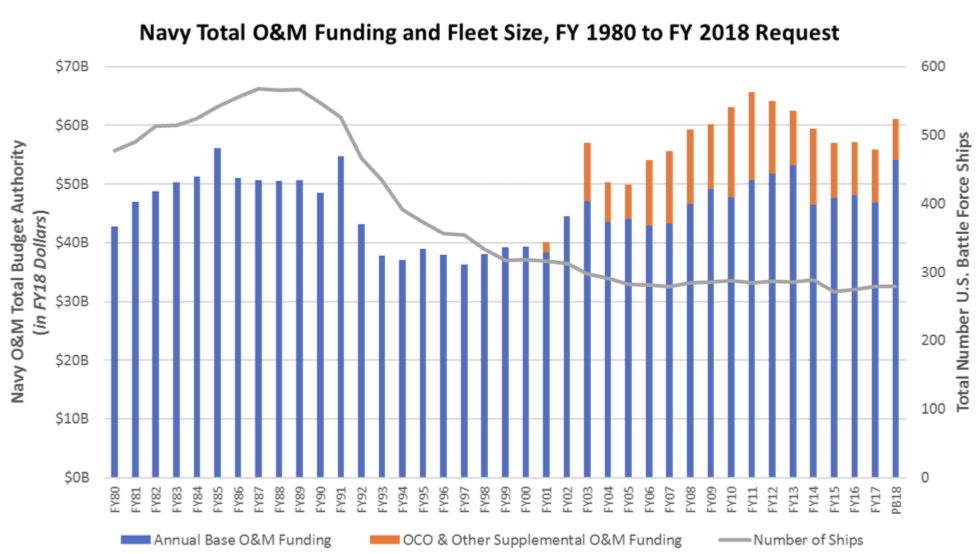 Going forward, Richardson said the Navy needs to beef-up individual and team training, focusing on, "basic seamanship, navigation and integrated bridge equipment, evaluating core officer and enlisted curricula with an emphasis on fundamentals, navigation skills."
Neither the comprehensive review nor Richardson put a dollar figure on how much additional funding, if any, would be spent on training.
Since the 1980s, though, Navy funding has steadily increased by 10 percent, according to the Daniels report which evaluated how much money was dedicated to operations and maintenance (O&M). At the same time, the Navy's fleet shrunk by 53 percent to today's number of 279 ships from a high of 568 ships in 1987, Daniels said.
Even after the Budget Control Act of 2011, Daniels said the Navy still had near historic high levels of O&M funding, to pay for a fleet near it's smallest size in decades. Yet during this period of increasing O&M funding, Navy spending on training remained relatively flat, according to Daniels' analysis.
Bryan Clark, a senior fellow at Center for Strategic and Budgetary Assessments, disagrees with the CSIS findings about flat funding for training. The current budget request for Fiscal Year 2018, Clark said, increases training funding to $977 million, or roughly $3.5 million per ship.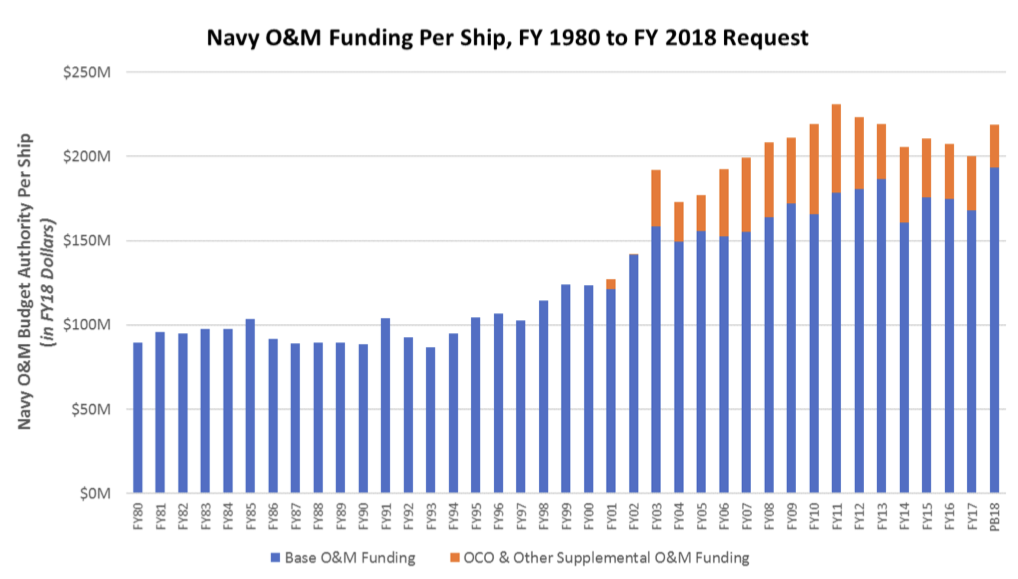 "This account could be raised, but has been increasing significantly over the last several years," Clark said. "The main contributor to the Navy's overall readiness shortfalls is the mismatch between fleet supply and demand, as we documented in our 2015 study "Deploying Beyond their Means" and the GAO has described in several reports since 2015."
The comprehensive review, though, states funding shortfalls caused capacity and readiness to decrease Navy-wide. Funding issues, the review states, placed more pressure on Japan-based ships – involved in this year's string of incidents at sea – while also limiting the Navy's ability to shift ships from other areas.
But Clark also disagrees with the comprehensive review's assessment, and instead concurs with Daniels' overall assessment of how the Navy's finances are not the problem. "O&M funding is not the main contributor to Navy readiness shortfalls, despite Navy leaders implying it is," Clark said.
While the Navy's leadership routinely mentions funding issues as contributing to a decline in readiness, this issue has been debated, and often debunked by think tanks for years. Clark noted this in July, while testifying before the Senate Armed Services Committee Subcommittee on Seapower, and reaffirmed this belief last week, after the Navy's fleet comprehensive review was released.
Even with the Budget Control Act of 2011, overall O&M funding has increased, but by increasingly relying on a less predictable source, overseas contingency operations (OCO) funding, Clark said. Recently, he added, OCO funding has represented a growing portion of the Navy's budget. This is supposed to change in FY 2018, but the budget hasn't been finalized yet.
Relying on OCO funding, though, is a problem because this funding isn't made available until after the budget is finalized. "Maintenance periods and overhauls are planned about a year in advance, so the lateness of the funding makes it hard to know how much work to plan," Clark said
If funding is late, Clark added maintenance often ends up being delayed. Some work might be put off longer than required, while other work might end up being rushed because of shipyard capacity issues. "This makes maintenance cost more, even though the same or less work may get completed," Clark said.
What's not addressed in the comprehensive review, but what both the CSIS study and Clark's research point out should be discussed more, is fleet size. Harrison said Navy leadership wants the current 279-ship fleet to do the work of a 355 or 400 ship fleet.
"I don't think that's a readiness issue, it's a capacity issue," Harrison said. "Either build a larger fleet or not do some missions."