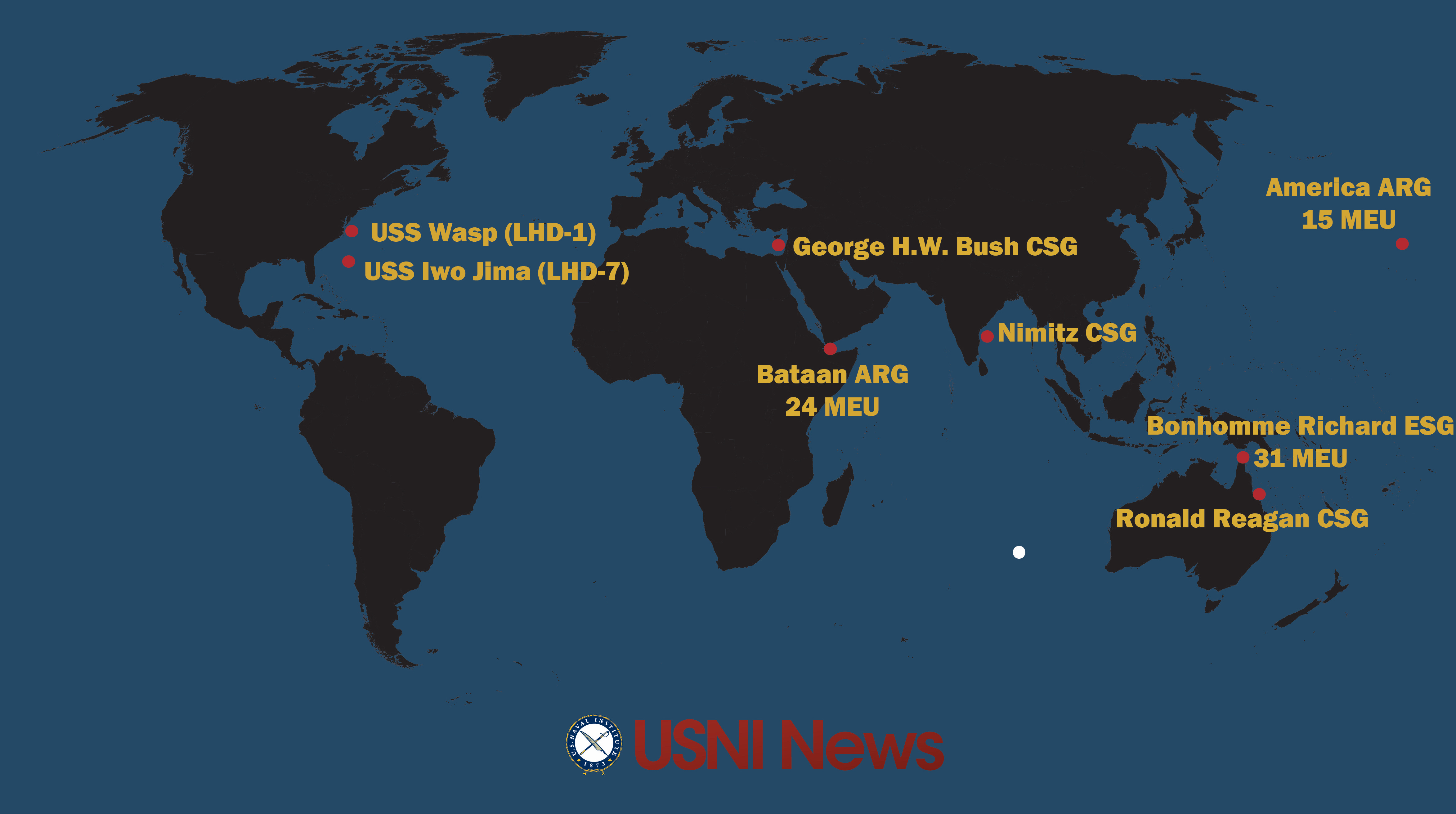 These are the approximate position of the U.S. Navy's deployed carrier strike groups and amphibious ready groups throughout the world as of July 10, 2017. In cases where a CSG or ARG is conducting disaggregated operations, the map reflects the location of the capital ship.
Total U.S. Navy Battle Force:
276
Ships Underway
| | | |
| --- | --- | --- |
| Deployed Ships Underway | Non-deployed Ships Underway | Total Ships Underway |
| 56 | 25 | 81 |
Ships Deployed by Fleet
| | | | | | |
| --- | --- | --- | --- | --- | --- |
| 3rd Fleet | 4th Fleet | 5th Fleet | 6th Fleet | 7th Fleet | Total |
| 2 | 3 | 19 | 21 | 59 | 104 |
In the Western Pacific
The Ronald Reagan Carrier Strike Group and the Bonhomme Richard Expeditionary Strike Group with 31st Marine Expeditionary Unit embarked are taking part in the month-long Talisman Saber exercise, which involves more than 33,000 U.S. and Australian personnel. The biennial exercise with U.S. and Australian forces includes "high-end warfighting scenarios" that "innovatively prepare for regional and global security challenges," according to a U.S. 7th Fleet Statement.
In the Middle Pacific
Sailors and Marines from the America Amphibious Ready Group (ARG) and 15th Marine Expeditionary Unit (MEU) departed their homeport of Naval Base San Diego, Friday, July 7, for a regularly scheduled deployment.
The America ARG is composed of amphibious assault ship USS America (LHA-6), amphibious transport dock USS San Diego (LPD-22), and amphibious dock landing ship USS Pearl Harbor (LSD-52). During deployment, they will operate with embarked forces of the 15th MEU, Amphibious Squadron (PHIBRON) 3, the "Wildcards" of Helicopter Sea Combat Squadron (HSC) 23, and detachments from Assault Craft Unit 5, Naval Beach Group 1, Beachmaster Unit 1, Fleet Surgical Team 1 and Tactical Air Control Squadron 11.
In the Indian Ocean
The Nimitz Carrier Strike Group is operating in the Bay of Bengal. They are training with Indian Navy and Japanese Navy units in Exercise Malabar 2017. China has ships there keeping a close eye on Malabar, which is being conducted at a time when tensions between India and China are higher than normal.
In the Gulf of Aden/Red Sea
The Bataan Amphibious Ready Group with the 24th Marine Expeditionary Unit embarked is operating off Yemen near the heavily traveled Bab el-Mandeb Strait. The ARG/MEU arrived in theater in March. The America ARG – currently in the Middle Pacific – deployed Friday and will ultimately relieve Bataan ARG in the Middle East.
In the Mediterranean Sea
George H. W. Bush Carrier Strike Group continues to operate in the Eastern Mediterranean. The carrier is supporting Operational Inherent Resolve in providing anti-ISIS airstrikes.