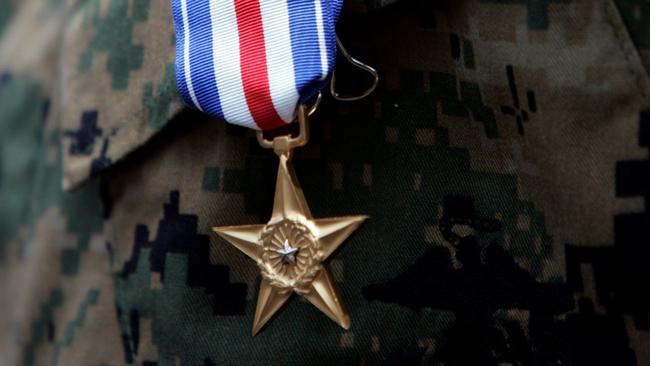 A Marine captain will receive the Silver Star medal on Thursday for his quick response when his team was attacked in Iraq in 2003, personal actions that initially had earned him the Bronze Star medal for valor.
Gen. Glenn M. Walters, the assistant commandant of the Marine Corps, will present the Silver Star medal to Capt. Andrew Kim, who works with the Marine Corps Tactics and Operations Group at Marine Corps Air Ground Combat Center in Twentynine Palms, Calif., the service announced.
Kim's award upgrade to the Silver Star – the nation's third-highest medal for gallantry and valor in combat – stems from a broad review the Department of Defense is taking to determine whether upgrades are warranted for valor medals awarded to service members after Sept. 11, 2001.
Kim was a sergeant assigned to a team with 1st Marine Division's Task Force Scorpion on Aug. 3, 2003, when an Iraqi man with a pistol began shooting at them, according to the announcement. Kim, a counter-intelligence specialist, quickly returned fire, killing the man, but he suffered several gunshots from someone else firing a small-arms weapon nearby.
Despite his combat wounds, "Kim maneuvered to his fallen team chief, helped him into a vehicle and began egressing from the kill zone," combat center officials said in the announcement. "Five Iraqi aggressors in a white pickup truck pursued him, subjecting his vehicle to intense volleys of enemy fire. Kim linked up with a light armored reconnaissance security element and ordered a deadly counterattack on the enemy."
"Kim's gallantry and effectiveness under fire saved the lives of all those conducting the mission," officials said, noting his "his bold initiative, undaunted courage and complete dedication to duty."