This month USNI News goes into the detail on the roles of the aircraft on the U.S. aircraft carrier with Capt. Rich 'Snap' Brophy, the commander of Carrier Air Wing 9 (CVW-9) currently deployed on USS John C. Stennis (CVN-74) in the Western Pacific.
When a U.S. carrier air wing deploys, it carries all of the aircraft it needs to not only fight other air threats but also strike ground targets, hunt for submarines, jam enemy radars and perform tasks as simple as bringing on food and supplies aboard for the crew of the carrier.
Aboard Stennis, the carrier has eight squadrons — and a detachment of two aircraft — each tasked with carrying out a specific function for the carrier strike group.
More than half of the 70 aircraft on Stennis are one or two-seat Boeing F/A-18E/F Super Hornets split between four strike fighter squadrons (VFA) attached to CVW-9. The strike fighters field a variety of weapons that can attack air or ground targets and are the primary offensive firepower in the carrier strike group.
The air wing also embarks with an electronic attack squadron (VAQ) made up of five Boeing EA-18G Growlers. The Growlers resemble F/A-18 F two-seat fighters and are loaded with equipment to jam and destroy enemy anti-air missile systems and help protect the rest of the air wing.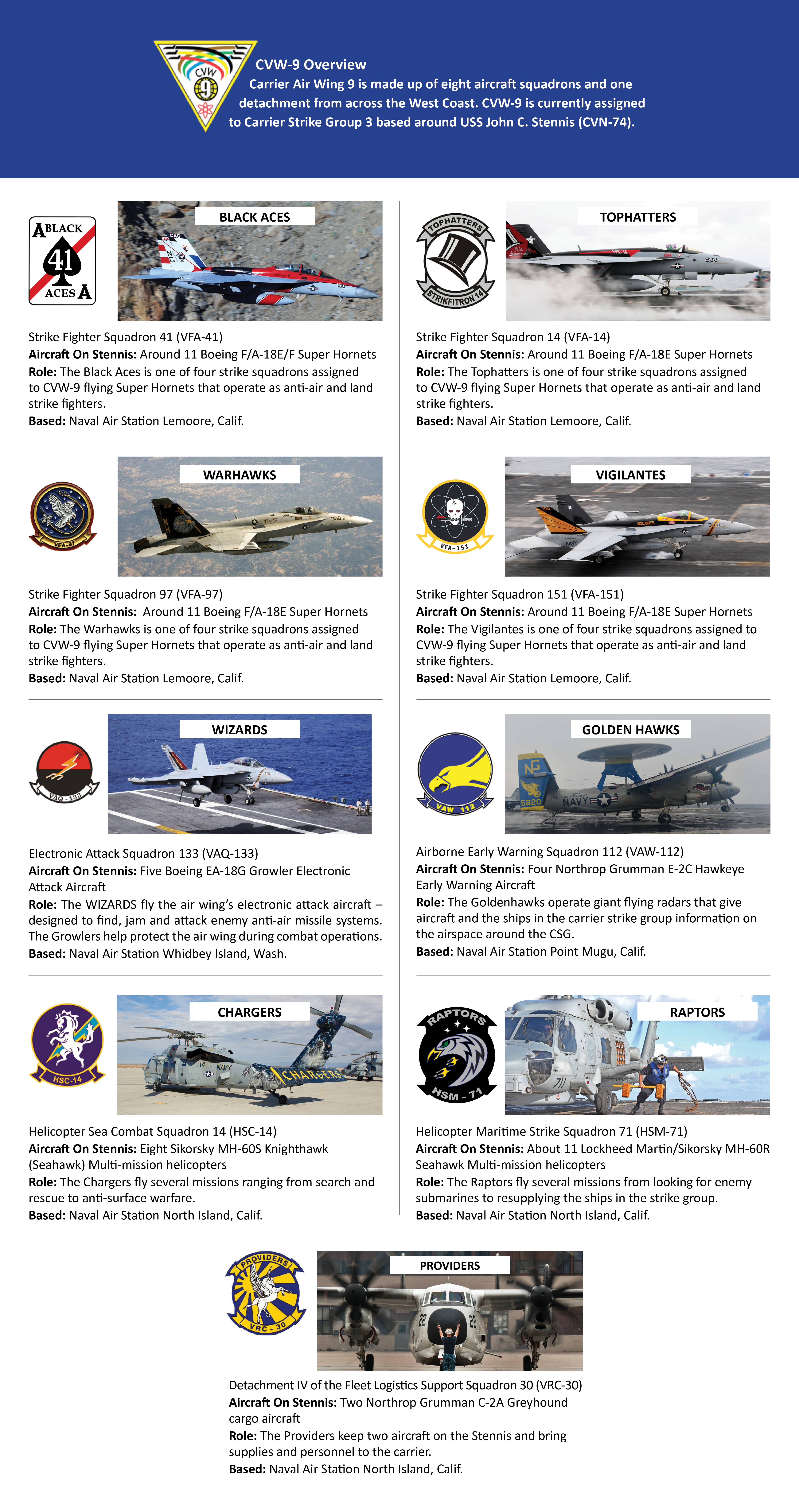 The Northrop Grumman E-2C Hawkeye is a flying radar system that provides the location of aircraft and ships around the carrier. The information from the four aircraft onboard is distributed to not only the aircraft flying from the ship but also to the other ships in the strike group.
Two types of helicopters operate in the air wing split between two squadrons of Sikorsky MH-60S Knighthawks and MH-60R Seahawks. Knighthawks can be armed with weapons that can attack other ships while the Romeos are outfitted to hunt submarines and perform other roles in the strike group. Both can be used for search and rescue and to help resupply the ship.
Rounding out the air wing are two Northrop Grumman C-2A Greyhound cargo aircraft that are used to bring additional supplies and personnel to the ship at longer ranges than the helicopters.