NORTH ISLAND NAVAL AIR STATION, Calif. – With ink barely dry on a unique agreement to generate solar power in the Southwest, Secretary of the Navy Ray Mabus came to Southern California Thursday to celebrate a milestone toward the service's goal to source half its energy at Navy and Marine Corps' shore bases from renewable resources.
The Navy, on July 16, signed a 25-year agreement with the federal Western Area Power Administration, Sempra U.S. Gas & Power and Shell Energy to draw 210 megawatts of direct current (DC) or 150 megawatts of alternating current (AC) generated from a solar farm in the Arizona desert. The energy generated would cover one-third the shore-based energy requirements for 14 Navy and Marine Corps installations across California.
The power will come from "Mesquite Solar 3," the third solar farm to be built and operated by Houston-based Sempra U.S. Gas and Power about 60 miles west of Phoenix, in Maricopa County, Ariz. The 4,000-acre Mesquite solar complex is planned as the nation's largest photovoltaic farm. Sempra and Shell Oil will build and operate the solar farm that feeds power into the power grid maintained by Western Area Power Administration. Western, in turn, sells to the Department of the Navy. Power would flow to the installations in late 2016. (While it varies by location, one megawatt generally powers 250 homes in California, according to Solar Energy Industries Association).
Mabus joined other key players Thursday for a signing ceremony. It marks the largest single purchase of renewable energy in the federal government with different federal agencies partnered with private industry, officials said.
"It's a really big deal," Dennis McGinn, retired vice admiral and the Navy's assistant secretary for energy, installations and environment.
"It marks a real significant milestone to show what we can do with the kinds of partnerships we have with the Department of Energy, Western Area Power Administration and with industry with Sempra and Shell. We're going to be doing more of it."
"It makes sense," McGinn said. "It's cleaner, it's cheaper. It diversifies our sources of energy for our shore installations."
The solar agreement is the biggest in a growing portfolio of renewable energy projects the Navy is counting on to reach its – and Mabus' – goal of generating 1 gigawatt of renewable power, or enough to fill half its shore facilities' electricity needs by late 2016. That would be several years earlier than the Air Force and Army.
"The agreement that we've signed is going to save money," Mabus said to reporters after the half-hour ceremony. While the Navy already is seeing savings from renewable power today, "in the future, we're going to save a lot more." The agreement "sets rates going out for the whole 25 years," he added. With conventional energy prices expected to keep rising, "it'll save even more money."
Officials shied away from the finer details like rates per kilowatt hour the Navy would pay or the industry's cost of building Mesquite Solar 3. Just how much will the Navy save? Estimates range from $70 million to as much as $400 million or more in savings over the 25 years.
With "the most conservative assumptions, we are going to save at least $90 million over the course of the contract," McGinn said. "More likely, I believe, we will see upwards of $450 million in savings over that time." More savings are likely as prices for conventional sources including natural gas rise, he noted.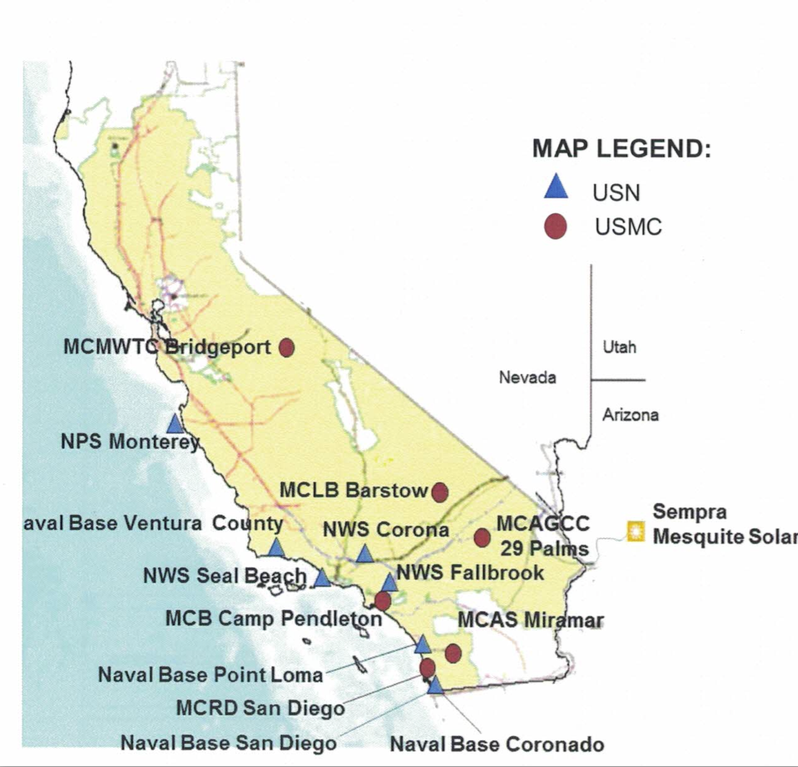 The department's push to grow its renewable sources continues, and solar is a sizable part of that. Acres of rows of photovoltaic cell panels, installed on frames that follow the sun, can be installed much faster than conventional energy plants. "It's a low footprint, and it's relatively fast to deploy. The prices continue to come down, so it's very attractive," said McGinn, a former president of the American Council on Renewable Energy.
The Navy continues to expand its use of wind power and geothermal power, such as its 270-megawatt Coso geothermal plant at China Lake Naval Air Weapons Station. It is working with DOE and the private sector at Fallon Naval Air Station, Nev., "looking to see what geothermal resource could be up there," McGinn said.
The Navy gets energy from one of three models: It generates power at its installations for base consumption. It sells excess power it generates to utilities for the grid. It buys power from outside supplies.
With the looming goals of getting its installations to be net-zero energy consumers – so installations create as much or power power than they consume – the Navy has cast its net wide to find more energy solutions and renewable projects, in the U.S. and abroad to build regional resiliency at its 96 major bases and stations. "We are looking at every single Navy and Marine Corps installation around the world… to see what the possibilities are," McGinn said. "We are really going to do analysis of, does it make sense?" Solutions will vary by base and location, he said, depending on local energy costs, renewable resources available and how it fits into the installation's mission."
On Sept. 10, the Navy will break ground on a 42-megawatt solar farm at Kings Bay Submarine Base, Ga., developed and built on 258 acres by the utility Georgia Power. Navy officials in July signed the agreement for the $75 million facility expected to go operational in late 2016. "We'll be doing more at our bases in Florida – Pensacola – and up in Mississippi – Meridian as well as in Gulfport," McGinn said. "Wherever it makes sense." Overseas, too. "We're talking with Italy, Japan, Guam, literally everywhere where there is Navy and Marine Corps presence," he said, and that includes building additional capacity in places that already have renewable energy.
Ron Moulton, Western's senior vice president and desert southwest regional manager, called the agreement a "win-win-win-win" for all parties. The agency, which falls under the Department of Energy, sells power and operates a large grid and transmission and distribution system for a wide swath of the West and Southwest. The Navy, Western's customer for about 15 years, last year approached Western about its 1 gigawatt initiative. The Mesquite agreement marks "significant progress" toward that goal, Moulton told the crowd, and "serves as a model for federal agencies to collaborate… to further the goal for increased renewable energy."
The Mesquite agreement came together in just one year, largely from "the drive and the collective will of the group to get this done," Moulton said after the ceremony. "This is good for the Navy. This is good for the nation. It's good for Western, it's good for Shell and it's innovative."
"This is a very, very big deal," said Patti Wagner, Sempra's president and chief executive officer, told a crowd. "Generating cleaner sources of power for our country is our future."
"We will continue to be a responsible partner," Wagner said, adding the company will be "respectful of the environment in this community. We take this very seriously, and we will continue to work closely with stakeholders to ensure that this remains a clean-energy project that we are all proud of for years to come."
The event took place on a pier with a backdrop of three nuclear-powered aircraft carriers: USS Carl Vinson, USS George Washington and USS Ronald Reagan. That was by intent. Nuclear carriers represent the Navy's evolution of power generation, from the days under wind and sail, then coal and oil, "We pioneered the use of nuclear power," Mabus said, noting the Navy "has always been on the cutting edge of energy change."
As secretary, Mabus has pressed hard for clean energy, conservation and alternate renewable energy sources. Progress underway to help protect the environment, save money and bolster national security, he said after the ceremony, has happened despite naysayers who say energy innovations wouldn't work or are too expensive or economic drains on local economies.
"Every single time, the naysayers were wrong, and they are wrong this time," he said.