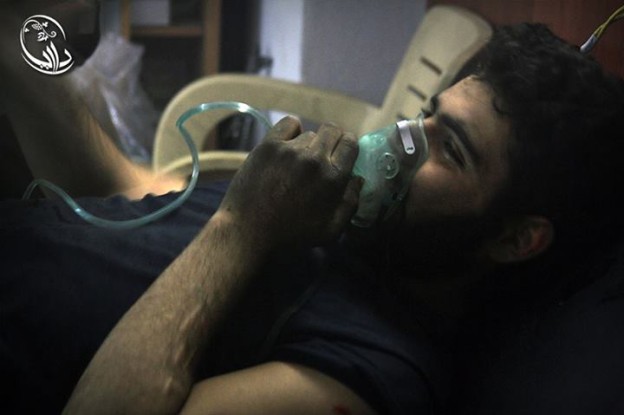 Syrian government forces have reportedly launched a new round of chemical attacks against rebel forces outside Damascus, leaving scores dead and wounded.
Government troops loyal to embattled Syrian President Bashar al-Assad set off 15 "barrel bombs" filled with weaponized chemical agents in the southwest Damascus suburb of Daraya, members of the Washington, D.C.-based Syrian Support Group told USNI News.
The suburb is one of several opposition-held territories in and around the Syrian capitol. Another one of these suburbs, Moadamiyeh, was the target of a large-scale chemical attack by Assad's forces in 2013.
Daraya is four miles east of Moadamiyeh.

View Daraya Chemical Weapons Attack in a larger map
The alleged attacks took place Sunday evening, leaving at least four people dead and 30 wounded, SSG spokesman Dan Layman said Monday.
The wounded are reportedly suffering from symptoms similar to those encountered during a chemical strike, according to opposition and military sources tied to SSG in Daraya.
Those symptoms include myosis, labored breathing, dizziness, and convulsions, according to Layman, whose D.C.-based organization backs the secular wing of the Syrian opposition.
Photos and videos posted on Facebook and Twitter showed alleged victims from Daraya receiving treatment a medical facility near the site of the attack.
SSG sources on the ground in Daraya could not confirm the casualties depicted in photos or videos posted on social media were tied to the reported strikes.
The Daraya attacks come as Washington and the international community are working to complete a chemical disarmament plan inside Syria.
Working under a United Nations mandate, international weapons inspectors spent the past several months confiscating and destroying Assad's chemical weapons arsenal.
Earlier this year, Assad declared his regime owned more than 1,000 metric tons of weaponized chemical agents, including nerve gas, dispersed over 22 sites in the country.
In November, OPCW members announced that all of the Assad regime's chemical weapons assets have been seized and accounted for, putting the group on track to have all the weapons destroyed by December.
For its part, the Pentagon has outfitted the U.S. commercial vessel MV Cape Ray with field deployable hydrolysis system technology, which will allow U.S. forces to safely dispose of those chemical stockpiles.
Administration officials approved the use of Cape Ray for possible disarmament operations earlier this month.
The ship and its hydrolysis system recently completed sea trials off the coast of Virginia in December.
But the rapidly deteriorating security situation in Syria has forced weapons inspectors to delay destruction plans for the country's chemical weapons stockpiles.
Officials from the Organization for the Prohibition of Chemical Weapons (OPCW) announced in early December it may not be able to reach its goal of having all of the Syrian chemical arsenal destroyed by the end of 2013, as initially planned.
The Obama administration in 2013 threatened military strikes against the Assad regime, in retaliation for the Moadamiyeh chemical attacks.
But an eleventh-hour deal between Washington, Russia and Syria put those plans on hold, after the Assad regime agreed to the chemical disarmament plan.