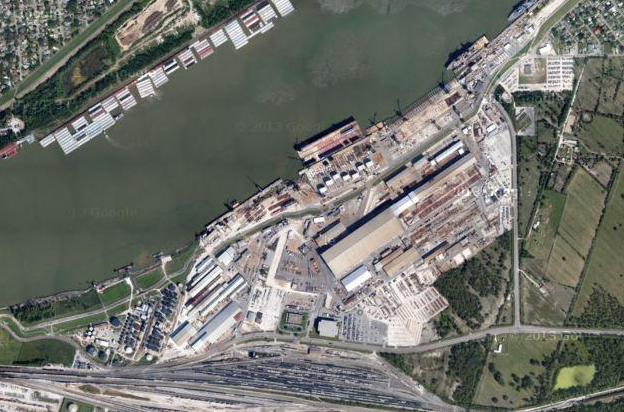 Avondale Shipyard in New Orleans. The yard historically built amphibious ships for the U.S. Navy. Owners are now exploring using the yard for manufacturing oil and gas infrastructure. Google Photo
Avondale Shipyards, in continuous operation since 1938, is best known in recent years for constructing Navy amphibious ships, including the Whidbey Island (LSD-41) class and the San Antonio (LPD-17) class. The yard was one of three spun off by Northrop Grumman to form Huntington Ingalls Industries (HII) in 2011. The company announced it would close the yard in 2013 at the completion of the last LPD scheduled there. At its height the yard employed 6,000; currently there are about 2,200 workers.In December, however, CEO Mike Petters announced HII was exploring use of the yard for the construction of oil and liquified natural gas (LNG) infrastructure around the Gulf Coast.
USNI News spoke with Christopher D. Kastner, HII's corporate vice president and general manager–corporate development, about the future of the yard, its workforce, and what it means for the U.S. Navy.



View Avondale in a larger map
USNI: Mike Petters said that entering the civilian market was something HII was exploring with Avondale after the company had received calls from industry. Tell us about that.
Kastner: This is something we've been working on for the past six to eight months and analyzing different markets that we could potentially redeploy Avondale into. After the discovery of LNG and all of the natural gas that is being discovered in North America and where that gas will move through—mostly the Gulf Coast—we determined that Avondale was pretty well situated to take advantage of all of the movement of LNG in the next two to five years.
USNI: Do you have specific partner companies? How is this going to work as a business model?
Kastner: We don't necessarily think we need a partner to enter this market. The skills of the people that work at this facility, both the engineers and the craftsmen are really directly transferable into the infrastructure business, especially oil and gas. We're talking to end-use customers as well as large EPCs that could potentially use Avondale as their construction partner.
USNI: EPCs?
Kastner: Engineering, procurement and construction companies. There are people like—I'm using these as an example, they're not necessarily potential customers—like Foster Wheeler, Bechtel, those type of folks.
USNI: What services are you looking to offer?
Kastner: Let me put in shipbuilding terms. We have been building ships in major units here in Avondale for about 30 years. The shipbuilding industry went from stick-building ships to building them in large modules and then stacking those modules, because it's less expensive to do the modular work in the factory versus on the ship. As these refineries get larger and more complex there's a movement toward modularization similar to what shipbuilding did 30 years ago. What Avondale can do—because of its size, experience and location on the Mississippi—it can build these large modules after they've been designed. We can build the large modules. We can ship them from right off our floating drydock, right on to a barge and to most of these facilities on the Gulf Coast because they're near the waterway.
USNI: What does a company look for when they reach out to you?
Kastner: What they say is: Look I have this major facility I'm going to build. I'm going to build a portion of it, where it makes sense, in a modular fashion. Can Avondale build that significant portion of it? It's a lot of steel, it's a lot of pipe, some electrical—not a lot. Can you build it there, [then] ship it to us so we can install it? That versus the historical construction in the oil and gas industry, which is to stick-build, that is, you take the workforce to the facility and do everything there.
USNI: This is a new market for HII. What's the business case? What are you telling your shareholders?
Kastner: A couple of things. One, Avondale has done this work before, 20 years ago. It has a history of bidding, winning and performing on a pretty diverse set of work. It has been in the oil and gas industry before and there are still people who know how to do that. We're comfortable that the skills are very transferrable. In a business case, we have a facility that's very capable and a labor force that's very capable. So the investment required to insure the space is very minimal. We're going to test out this model over this year.
USNI: What kind of conversation are we going to have six month from right now?
Kastner: I don't like putting a timeline on it, but we would be talking about projects we were performing at Avondale. We're validating the model and talking about projects that are showing up on the Gulf Coast that we potentially will be competing for.
USNI: It's cutting it close to the 2013 closing of Avondale. What are you telling your workforce out there?
Kastner: Unfortunately, we're telling our workforce that we could potentially still lose some additional people while we're competing for some of these new projects. But we hope to be winning business this year. We're at 2,000 people now and we'd like to retain about 2,000 people exiting 2013. It means we would have to win some projects this year.
USNI: Can you talk about competing in a civilian marketplace versus working for the Navy?
Kastner: We have a pretty good partnership with our labor union here and they fully understand that we are moving into a new space that is very competitive and the majority of those competitors are non-union. We've had discussions with the unions about entering into an arrangement with them that would allow us to competitive.
USNI: Will there a still be a capability to do naval work in this model or will it be completely handed over to civilian work?
Kastner: We think there's enough market with oil and gas infrastructure for the facility, though it doesn't mean we couldn't do that work.
USNI: How does the Navy feel about all of this?
Kastner: We've been very transparent with he Navy. We've been in discussions with them about this on an ongoing basis and they've been very supportive toward this. They want this manufacturing capability to be retained in this yard. They've been very supportive.