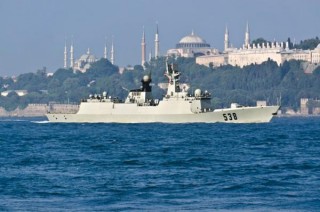 The ever-growing reach of China's navy was demonstrated recently when two of its warships sailed through the Turkish Straits and into the Black Sea for the first time. The two ships, the Luhu-class destroyer Qingdao and Jiangkai II–class frigateYantai (pictured here), entered the Black Sea on 31 July. They then veered off on their own separate visits, with the Qingdaotraveling to Sevastopol, Ukraine, while the Yantai made her own port calls at Costanta, Romania, and Varna, Bulgaria, before the vessels sailed back through the Bosporus and the Dardanelles in early August. Both ships, along with the replenishment oiler Weishanhu , had recently completed anti-piracy patrols
Photo courtesy Cem D. Yaylali
in the Gulf of Aden and off the coast of Somalia. Although the destroyer and frigate entered the Black Sea, the larger 23,000-ton Weishanhu remained docked at Istanbul. Once the ships departed the area, they made a brief stop at Haifa, Israel, before returning home to Chinese waters.
---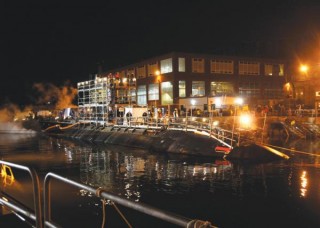 The U.S. Navy recently announced plans to rebuild the damaged submarine USS Miami (SSN-755) following a destructive 23 May fire suspected to have been caused by arson. In late August the Navy released revised repair estimates, placing the cost at approximately $450 million. The boat, which was in dry dock for overhaul at the Portsmouth Naval Shipyard in Kittery, Maine, when the fire occurred, is now expected to return to service in the spring of 2015. Twenty-four-year old Casey James Fury, a civilian worker at the shipyard, was arrested for suspected arson and remains in custody in Portland, Maine, facing life imprisonment, fines, and potentially hundreds of millions of dollars in restitution payments if convicted. Built by Electric Boat in Connecticut, the Miami was launched in 1988 and entered service in 1990. Once her repairs are complete, the Navy expects that the submarine will be able to serve an additional ten years, taking part in at least five more full-length deployments.
---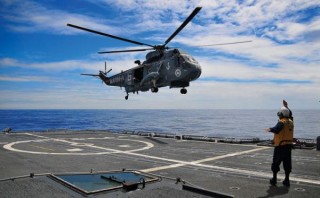 In August the Brazilian Navy accepted two new S-70B Seahawk naval helicopters into service. The Seahawk, which carries the Brazilian designation MH-16, is intended to replace the aging SH-3 Sea King antisubmarine helicopter pictured here. The order for the S-70s, which were purchased under the U.S. Foreign Military Sales program, was first announced in June 2011 at the Paris Air Show. Four additional Seahawk helicopters have been ordered and are planned for delivery by 2014. The S-70Bs are built by Sikorsky Aircraft Corporation and will be operated by Brazil's 1st Antisubmarine Helicopter Squadron. Fitted with a wide array of avionics optimized for the maritime environment, the new helicopters' sensor fit includes a radar, dipping sonar, electronic-surveillance measures, thermal imaging, and GPS equipment. Weapon options include torpedoes, Penguin antiship missiles, and small arms. The new helicopters are expected to perform antisubmarine- and antisurface-warfare missions and are also capable of conducting surveillance, search-and-rescue, and fire-support operations.